Covid's effect reaches the court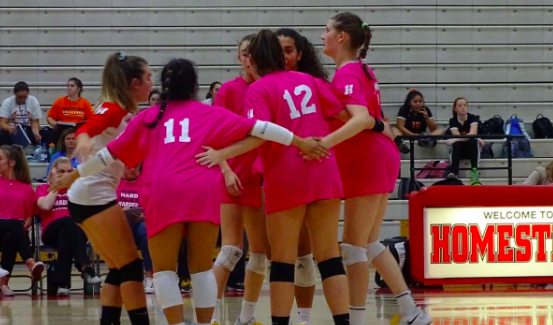 When COVID-19 shut down states across the country in March, it also meant youth sports leagues came to a standstill. At the height of the club volleyball season, Homestead High School players affiliated with several clubs, including Wisconsin Premier, Milwaukee Sting, Motion Volleyball Program and 414 Milwaukee Elite discovered that their tournaments and practices were cancelled for the foreseeable future.
"I was incredibly sad because we were a really strong team, at the top of our game, and I was so excited and ready for the other half of our season, which was going to be a great one," Jessica Gee, a Homestead junior who plays for Milwaukee Sting, said.
"This is my last year playing club so it's upsetting that it got cut short because I've been playing for so long and I'm not ready to give it up yet," Mia Caputa, a Homestead junior who plays for Wisconsin Premier, said.
As of right now, the majority of tournaments have been cancelled, which would have meant travel for teams to Louisville, Indianapolis, St. Louis and Minneapolis. USAV and AAU nationals are tentatively scheduled to go on in late June through early July in Dallas and Orlando, Florida, which is still giving some players hope.
"My team qualified and was planning on attending the USA nationals, but we are not sure with the situation we are in right now," Gabby Magee, Homestead sophomore who plays for Wisconsin Premier, said.
"Going to nationals often symbolized the culmination of six months of hard work, dedication and growth," Samantha Pangborn, coach of Motion Volleyball Program 16-Blue said. Her team won its last tournament in March to receive free AAU National Championships registration.
If nationals are to be held, there will be several precautions to be put in place to ensure the safety of visitors and staff. According to the AAU Volleyball website, each team can consist of 15 players, five bench personnel and 10 chaperones. This event attracts up to 120,000 visitors per year, and with the limited number of people allowed, that heavily affects Central Florida's economy.
Although there are no practices or tournaments, teams are finding ways to stay connected.
"My team and I have a group chat on Snapchat that helps us stay connected, along with our MVP Instagram takeover," Heidi Abramavicius, Homestead senior who plays for Motion Volleyball Program, said.
"We are staying connected through texting, we have done team bonding sessions and we are doing something for our coach's birthday soon," Emma Lusis, Homestead junior who plays for Wisconsin Premier, said.
After almost three months of downtime and hopes for nationals fading, players aren't giving up on volleyball completely. Instead of focusing on a lost club season, they are looking ahead to the upcoming high school volleyball season, and they are looking forward to starting up Homestead volleyball in the fall.
Leave a Comment