Seniors allowed to graduate early, drop electives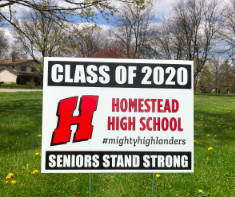 As the Covid-19 became a bigger and bigger threat, Gov. Evers ordered to lockdown the state to keep the residents of Wisconsin safe. This action has affected lives of everyone, especially the graduating class of 2020. Homestead High School decided to allow eligible students to graduate early in order to ease the stress during this difficult time.
"As you know, the class of 2020 has experienced a lot this spring with so many different emotions. We felt that providing this opportunity would help ease the stress a little bit for our seniors and their families," Principal Eric Ebert said.
Some of the 2020 senior class has expressed that being able to drop classes was extremely relieving and has made an uncomfortable quarantine a lot less stressful.
"I decided to drop my electives because it allows me to spend more time on my classes required to graduate. It benefits me as a senior because I can better focus on these classes and be more prepared for college," Grace Mueller said.
Some seniors chose to keep their classes because they felt it might benefit them in college. However, not all seniors were allowed the opportunity to drop all or some of their classes due to graduation requirements.
"I decided not to drop any classes because I believe the classes I am taking currently will help me in college and because I would be super bored at home if I did," Kaitlin Limbach said.
"I had both of my senior year English credits this trimester. I decided that if I couldn't drop those two classes, I might as well not drop Physics and Pre-Calc because I might get information from those classes for the future. If I hadn't thought my classes this trimester were important I probably would've dropped or graduated early," Braylin Smith said.