Solorzano recalls experiences in education upon retirement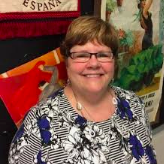 With a decades-long career in education, touching the hearts of thousands of Homestead students, Mrs. Kathy Solorzano, Homestead Spanish teacher, has said she always wanted to teach. "I think I did at heart," she said. Beginning learning Spanish as a junior in high school, Solorzano said she "fell in love" with the subject she will now retire from after over four decades as an educator.
Before she began her career at Homestead, she used to work with Mexican migrants who used to pick fruits and vegetables from Libby's Canning Factory in Hartford. She also worked in a program to help migrant children catch up on school work. "I just love languages," Solorzano said. "I've always loved working and teaching with kids, [and] adults."
For Solorzano, her connection to teaching language was a calling, an immediate connection. "From the minute my teacher started talking in Spanish, I just fell in love with Spanish. I knew that Spanish was going to be an important part of my life… it was like love at first sight."
Solorzano's passion for the language radiates as she discusses her experiences. According to her, she was unsure at first what exactly that "love at first sight" would translate into. While at first she considered expanding her passion into a multitude of languages to become a translator, her father's advice influenced her to pursue a specific career path, and as such she chose Spanish. This proved to be a worthwhile commitment, as her father-in-law was the Costa Rican equivalent of a Secretary of State, so she was able to work with interpretation and translation for a period of time.
"Spanish and I just clicked," Solorzano said.
While attending the University of Wisconsin-Oshkosh, she worked in a program to help migrant workers in the city. She also started a program to teach Kindergarten students Spanish at the elementary level, after persuading her college that it would be an enriching experience. With her vice presidency of the international club at Oshkosh and her time assisting a Latin American studies professor, Solorzano describes her college experience as a "great" one, and her dedication to her craft is evident through all four of her years in attendance.
After college, she taught English as a second language in England, during which time she was able to sit in on French classes to study the French language as well, which came with her tutoring in English and Spanish. "It was a nice trade," Solorzano said.
Solorzano came to Homestead after her time living in Costa Rica, remembering the beginning of her experience as a Homestead teacher vividly. She took over for the school's second Spanish substitute, wherein students were playing games such as "sink the sub" with the previous teachers. However, Solorzano was quick to assert herself as a respectable educator. "I walked into the classroom and I said to [the students], 'you may think you are going to play 'sink the sub with me'… but that is not the case. I just felt very determined," Solorzano expressed, "but I also felt very humbled and at home at the World Language department." When the job for a permanent teaching position as a Spanish educator was posted, Solorzano told the superintendent at the time that he would "be a fool" if he did not hire her.
With 46 years of teaching in total and 33 at Homestead, Solorzano has made lasting memories and connections with her students. When asked if she had any favorite memories, she smiled. "I have a couple," she said, "There are several, for sure."
She then began to describe her time in the Homework Help program, a program which lasted nine years where she and her students would teach kids peacemaking, during which students would work one-on-one to learn math and other subjects. The neighborhood which the program took place in was "rough," so much so that extra security measures had to be taken when the students arrived to ensure safety. However, she describes a moment when she was driving in the area and got a flat tire with one of her friends. A gang of boys then approached her car. "One boy asked, 'Kathy, do you remember me?' I said, 'Yes, but you've grown up quite a bit'. It turns out that it was one of the boys from the Homework Help program," Solorzano said. He then proceeded to tell her that due to the help he received through the program, he was able to finish high school, and helped her change her tire.
This is just one of the many amazing memories Solorzano described as part of her Homestead teaching career. But not only has Solorzano been educating her students, but she has found that she learned many lessons herself. "I learned that you never stopped learning," she said, "I learned to be flexible, to have a sense of humor and to really appreciate the perspective of the students I teach. I have also learned to say 'I'm sorry'."
Overall, Solorzano has proven herself to be an incredible educator, with years of experience under her belt and many amazing memories to show for it. In her own words, "You've got to love what you do," an idea which she has exemplified throughout her many years as an educator. Though she is retiring this year, her time at Homestead will not be forgotten, and will live on in the minds and hearts of the kids she has taught across the world.