The show must go on
Homestead to perform She Kills Monsters for 2020 fall play
After Homestead's spring play was cancelled last school year due to coronavirus, theatre will be performing She Kills Monsters for this year's fall play instead.
She Kills Monsters: Young Adventurers Edition is a play that appeals to diverse audiences. It features LGBTQ storylines and brings light to prevalent issues in the high school setting.
Amelia Figg-Franzoi, theatre director, believes Vietnamese American playwright Qui Nguyen's play is one that audiences should take the time to see. "He helps voice all the kids in high school who might get overlooked. She Kills Monsters is set in high school, with amazing characters learning about their friends and family as they also discover themselves," Figg-Franzoi said.
It is currently uncertain as to how the play will be viewed by audiences; however, the theatre department has many proposed alternatives to an in-person viewing.
Ideally, the play will be able to be viewed by all interested audiences. "I don't know what the audience will look like, but if we are back in-person or virtual, I feel the safest way to show our play would be to stream it virtually so the audience can stay safe at home," Figg-Franzoi said.
Additionally, there are to be plans set in place for rehearsals if the district returns to Instructional Scenario D and students are sent home.
Julia Rowe, senior, is optimistic about all possible scenarios. "If there is a surge of cases and we happen to go online again and activities are cancelled, our show also has a version of the script designed to be performed online and over Zoom, so we do have a backup plan," Rowe said.
Since the play was originally intended to be put on last year, cast members who did not graduate had the option to keep their role. Auditions were held for those who wished to re-audition alongside new members of the theatre department.
Rehearsals for the play are set to start on Sept. 14, and the cast is prepared to follow all proposed guidelines to rehearse safely and effectively. "Rehearsals are going to be much more toned down, with limited actors in a space at a time, masks required at all times, and social distancing procedures followed," Rowe said.
Regardless of the uncertainties surrounding the situation, the cast is looking forward to sharing their hard work and dedication with others.
Kaet Sisney, senior, is enthusiastic about putting on She Kills Monsters in any form. "We're not sure what lies ahead, but we're prepared for any situation and we're all so excited to be a part of this play and perform it for everyone," Sisney said.
Leave a Comment
About the Contributor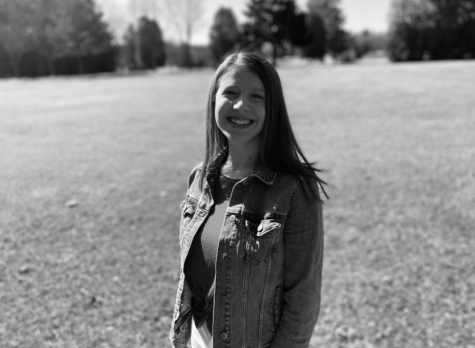 Ainsley Feigles, PR & Web Manager
Ainsley Feigles is a senior at Homestead High School. She has always had a passion for writing and is enjoying spending her second year with Highlander...