Love has no limits
As she packed her bags, Allison Lauber de Garza, Spanish teacher, prepared to move 1,700 miles away from home right after college. With an apartment and a job already lined up for her, when Lauber de Garza booked a one way ticket to Leon, Mexico in June of 2005, she had no idea how drastically her life would change.
Growing up in Franklin, Wis. and attending Lawrence University in Appleton, Lauber de Garza studied abroad in Mexico for one college semester as she double majored in Spanish and music.
In May, before college graduation, she received an email from a fellow Lawrence alum who was working in Mexico teaching English as a second language (ESL). "At the time I had no idea what I wanted to do with my life. I had two degrees and I could teach Spanish or music," Lauber de Garza said. As her friend prepared to move back to the United States, there would be an open position at the school where she worked.
After falling in love with Mexico, when she was given the chance to return and work in Leon, she took full advantage of it. "I liked living in Mexico and I wanted to get better at my Spanish," Lauber de Garza said, "I figured I would go live in Mexico and figure out my life when I got back."
After arriving in Mexico, and getting settled in, Lauber de Garza began training as an ESL teacher in downtown Leon. "It was honestly the safest environment I could have been in. I had already lived in Mexico, so my Spanish was proficient, and I was teaching at a school with fellow English speakers," Lauber de Garza said.
As she prepared for her first week of teaching, someone special walked into her classroom, and into her life. "It was in that first week that I met Genaro," Lauber de Garza said. Genaro Garza, who was a good friend of the Lauber de Garza's new boss, had come to welcome her and show her around.
"[When we first met] I was sitting in the computer lab and Genaro came in and said 'Oh, you're Allison, the new teacher right?' and I was like 'Mhm'," Lauber de Garza said. "When he came in all smiley and friendly I was [defensive] at first because I was not here for [dating]," Lauber de Garza said.
Dating aside, their friendship blossomed as Garza continued to acclimate Lauber de Garza to her new home. "He was always looking for new ideas. He took me to parks, museums, and restaurants, and showed me the bus routes," Lauber de Garza said. "We were friends for a while because we had the preface that I was not there to date him and he was not going to date me," Lauber de Garza said.
A few months into their friendship, however, things began to change. Lauber de Garza went as Garza's plus one to his brother's wedding and at dinner he asked her to be his girlfriend. "I was like 'I give up!'," Lauber de Garza said, "and two months later we were already talking about getting engaged."
That Christmas, Lauber de Garza returned to Wisconsin for a visit and broke some rather big news to her family. "I basically told them that Genaro was a very special person in my life and that he wouldn't be going away anytime soon," Lauber de Garza said. Her father and mother soon took trips down to Leon to meet Garza and his family as their relationship became more serious.
With engagement on the horizon, the immigration process ensued. In the United States of America, a Nonimmigrant Visa for Fiance, also known as the K-1 Visa, is required for the entry and marriage of a noncitizen to an American citizen. To apply for the K-1 visa, the U.S citizen sponsoring the foreign fiance must live in the United States.
"I found a long term substitute job at Waukesha South and, after my school year was over, I moved back to the state. The couple did long distance via AOL Messenger while Lauber de Garza lived at home and Garza stayed in Mexico until their paperwork went through.
"To submit his K-1 Visa application we had to submit super personal letters, plane tickets, and any evidence to prove that it was a legitimate relationship. It was very invasive" Lauber de Garza said.
In the midst of the visa process Lauber de Garza and Garza officially got engaged and began planning for a wedding as soon as Garza was approved for his visa.
After the initial application went through Garza was then given an appointment date at the U.S embassy in Ciudad Juarez. "When we had to go to Ciudad Juarez for the interview it was recommended that I be there, but I was not allowed in [the embassy]. I had to be there in case they wanted to ask me questions, but I was not physically allowed in the building unless summoned," Lauber de Garza explained.
The interview process for the K-1 visa required a biometrics exam from exactly one day before the interview and a six to seven hour wait in line before being questioned. Interviewees were given a specific date to visit the embassy, but not a specific time, so they waited in line starting at 6AM in hopes of making it in. Lauber de Garza waited out the six hours in a gift shop across the street in case she was summoned.
"The scariest part was the interview [for me]," Garza said. "I was alone for two hours and they were investigating me and making sure everything matched. But in the end we were very lucky," Garza said.
With a K-1 visa they had 90 days to get married after Garza's arrival as the noncitizen fiance. They planned for a wedding on March 31st, exactly 90 days after Garza first stepped foot in the U.S.
"The most stressful moment was when I was on the phone with social security trying to get Genaro's social security number so that he could apply for his permanent resident card and they told me he could not get a social security number until we were married. I told them we were getting married on March 31st and they told me [if we wait that long] he would get deported," Lauber de Garza said.
Within a week, they gathered as many family members as possible, contacted their priest, and got a date at the local courthouse. On Feb. 15, 2007, exactly 45 days after Garza had arrived for the first time in the U.S, the couple wed.
On March 31, their original wedding day, they hosted a reception with family and friends to celebrate. However, due to difficulty obtaining visas, Garza only had his mother, his friend, and his childhood neighbor at the celebration. "All of his brothers, his father and family were denied visas because they did not have enough assets in Mexico and were of working age," Lauber de Garza explained.
Although not everyone was able to be together, the newlywed couple celebrated their marriage, and Garza adjusted to his new life in a completely new country. "How you grew up, all the food that your mom cooks, the different cultures, that was a big change," Garza said. "Of course the hardest part was leaving all of my family behind. I felt like I was reborn here," Garza said.
Fast forward eight years, and Lauber de Garza and Garza had moved to Mequon, had four children together, and were preparing to apply for citizenship. "We had to do all of the paperwork again, filling out all of my alien documents," Garza said. Once the government reviewed all of his paperwork he was given an interview and test date.
Garza also had to study for the citizenship test which required him to get six out of ten civics questions correct. "They sent me a package with all the possible questions and answers in a pamphlet and a CD that I used to play in my car to learn the answers," Garza said.
"The test was pretty simple; it was not that bad," Garza said, "I was expecting it to be more [difficult] but I was confident and prepared." Garza passed his test and was sent a letter which told him to return one month later to take his oath of allegiance.
Taking the oath of allegiance is a monumental step in the immigration process, and is usually mixed with bittersweet feelings. "[When you take the oath of allegiance] you have to revoke all ties to your previous country, so in the eyes of the United States, he is no longer a Mexican citizen," Lauber de Garza explained.
In June 2019, Garza took the oath of allegiance and officially became a citizen of the United States of America. Throughout the entire process, while Lauber de Garza and Garza agree it was stressful and difficult at times, it was worth it in the end. They now raise their four kids in Mequon, speak Spanish at home, and try to incorporate Mexican traditions into their life to teach their children about their father's culture.
"We try our best to speak Spanish and do [cultural] things. It is important to me that they don't lose that part of them," Garza said.
View Comments (2)
About the Contributor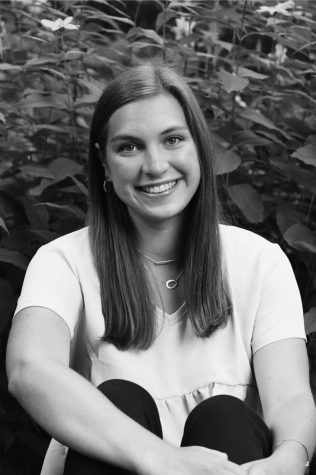 Hannah Kennedy, Editor in Chief
Hannah Kennedy is a senior at Homestead and serves as editor in chief of Highlander Publications. She is going to study journalism in college at the University...