Screen time on the rise
COVID-19s untimely arrival prompted the societal shift to a virtual world and has led teenagers to become even further immersed into the mysterious deep waters of the internet.
Society has worried about the internet's impact on everyday life since its conception. Four decades ago people were quick to label themselves as ́Computerphobes', stating that because they were anxious about handling computers and felt threatened by the machines that they suffered from ́Computerphobia.'
Our methods to connect, communicate, and instigate conflicts with each other have steadily multiplied as time has gone by; however, the pandemic prompted the swift transition to online living that Computerphobes of the 1980s feared so passionately.
Of 65 Homestead students surveyed, 40% of them admitted that they spent more than seven hours on their phones per day, an amount of time that soars high above the two hours that The American Academy of Pediatrics recommends for teenagers.
Jeremy Engle from The New York Times bluntly explained this increase that people all over the country are dealing with when he said "The coronavirus pandemic ended the screen time debate: Screens won."
It makes perfect sense that during a time when so many of the different boats of students' lives have been anchored into a virtual harbor that the devices that allow them to go online would be used more, but Kieth Humphreys, a professor of psychology at Stanford University and addiction, expert worries that this increased activity is bound to have long-lasting impacts in the future.
"There will be a period of epic withdrawal," and teens, especially those who haven't learned in an in-person setting in almost a year like Homestead's virtual students, will have a hard time "sustaining attention in normal interactions without getting a reward hit every few seconds," Humpreys said.
The teens of today have always lived in a world where the internet is accessible to them and the vast, unfiltered online environment is only a tap, swipe or click away.
In fact, 85.7% of the students surveyed believe that the pandemic has strengthened their relationship with technology overall. A virtual freshman student who chose to remain anonymous, described their relationship with technology as "insightful, positive, and addictive."
Nathan Ferguson, one of the founders of Real Life Magazine, has spent a lot of time studying the ways that young people interact with technology. In his book, The Social Photo: On Photography and Social Media, he said "Teenagers are cyborgs, and their phones are mechanical eyes that help them interpret their experiences."
Whether it's deep in the comments of a viral Tik Tok video or three tweets into a lengthy Twitter thread, teens know that technology provides them with the opportunity to interact with people during a time when being "socially distant" is required to some extent for safety reasons.
On the survey of Homestead students, 81.8% said that technology and social media have helped them feel more connected to their peers during the pandemic.
When asked if they felt a similar way OH said, "100%. It [technology] allows me to see what people are up to, even if we don't talk. Instagram is how I communicate with most of my friends."
Technology and social media have become inescapable parts of our lives, and while it's easy to go down the rabbit hole of all of the negative impacts that they may have on us in the future, there are also possible positive ways that they may influence us in the future that we haven't yet had the opportunity to see.
We have had to adapt to social environments that are foreign to us, but through that Jordan Shapiro, an assistant professor at the University of Philadelphia, said that teens "may be able to pick up on social cues online and the nuances of texted communication in ways adults are just adjusting to now. They're still learning social skills, Shapiro pointed out — they're just learning them in a different way."
During a time when conflict is so widespread, social media has simultaneously served as a microphone for those who opt to instigate and a resource for those who choose to expand their worldview.
OH said, "Oftentimes I'll hear something on social media, think it's crazy, and go research it myself to understand it. Being on social media for so long has opened my eyes to so many things, and has made me much more accepting as a person."
It's indisputable that the pandemic has been an incredibly formative experience for young people during an already turbulent period of their lives. Learning environments have changed dramatically, alterations have chipped away at the joy that sports and extracurricular activities once provided, and relationships have shifted.
But through it all, technology has served as sort of a silver lining.
"I think that we were really fortunate in a way to have had it [technology] during this unprecedented crazy time because social connection is so important. It's been a really really tough time for people across the board and technology can sort of soften that blow," Lauren Schaefer, Homestead counselor, said.
About the Contributor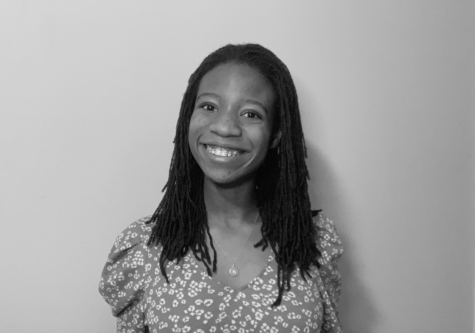 Blair Martin, Staffer
Blair Martin is currently a junior at Homestead High School. She's beyond psyched about continuing her work in the pubs lab and using the lessons she...