Social studies veteran returns for final trimester
At the beginning of third trimester, retired social studies educator Tony Engle began to grace the halls of Homestead once again as a long-term substitute.
During his 28-year tenure Engle taught numerous classes in the social studies department and is still remembered fondly by his students years later.
"I had Mr. Engle my freshman year and he quickly became one of my favorite teachers. He makes learning very fun and he really connects with all his students," Sasha Shapsis, Class of '20, said.
Since his retirement in 2018, Engle periodically subbed at schools like Slinger, Grafton and Cedarburg but said that he "never imagined becoming a long term substitute teacher." But after learning that department chair Ben Sloma would have to step away from his third trimester classes and take an extended leave of absence, the school reached out to Engle.
"They called me in a moment of weakness," Engle said, "The snow was up to my mailbox in my yard. I hadn't been able to get out and exercise like I usually do, and I had just gotten the first bill for my son's wedding."
Engle's son is planning on getting married in England this upcoming summer, and the teacher listed that event along with getting to see his grandchildren again as the top things he's looking forward to in the future. "I thought 'hmm…I've got nothing to do, I could use some extra money to pay for the wedding, let me jump on in.' I told them yes within the first five minutes," Engle said.
Teachers this year have had to adapt to new programs, with blended in-person and virtual classes, and the responsibility of keeping their students safe amidst a pandemic, but Engle said, "Mr. Ciurlik and Mrs. Zellmann were there to help me along the way with the technology; they've really been my saving graces."
This trimester, Engle teaches US History, and while his students were initially expecting a different teacher, they've enjoyed their time in room 905.
Eve Marks, junior, said, "I would describe his teaching style as engaging and outside of the box. He takes his past experiences and applies them to what he's teaching us in class in a really fun way."
During a year unlike any other, Engle has found joy returning to his old stomping grounds and getting to know some of the students who haven't had the privilege of having him as a teacher previously.
"I love to teach and give back—even as a retiree. I'm just passionate about having the opportunity to share my love of history," Engle said.
About the Contributor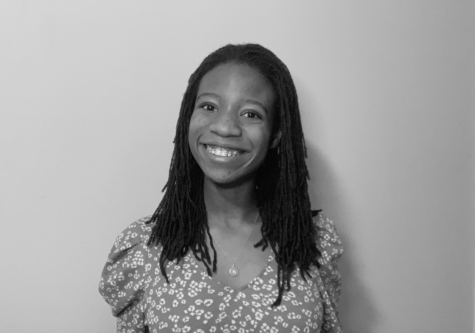 Blair Martin, Staffer
Blair Martin is currently a junior at Homestead High School. She's beyond psyched about continuing her work in the pubs lab and using the lessons she...