Adapting to a new challenge for AP testing
AP tests begin May 3, and this year will look different from the last in a number of ways.
Unlike last school year, Homestead is now doing a hybrid between online testing and in-person compared to the online-only system from last year. The adjustments are meant to make testing equal for online and virtual students so that there are no major discrepancies between both situations during the tests.
AP testing requires preparation and effort on the part of students in order to be successful. Many of these options are the same as normal years, but with slight changes. Boost sessions are being hybridized for in-person and online students, depending on the class.
Lori Becker, AP testing director at Homestead, explained some potential points of confusion in an email to students. For virtual students, a separate email will be sent to them with more specific instructions on what to do for online exams.
For everyone, an MTSD-issued Chromebook will be necessary for the test. As for when tests are happening, in-person morning exams will require students to show up to their designated room at 7:25 a.m. and afternoon exams at 12 p.m. Digital exams will start at either 11 a.m. or 3 p.m. Online students will also need to do a test check-in 30 minutes before the start of the exam.
A majority of AP exams at Homestead will be taken in-person with the exception of all AP English exams. AP Literature and Composition, AP Language and Composition and AP Seminar will be completely virtual with students testing at home.
Ashley Pozel, AP Language and Composition teacher, polled her students as to whether they would prefer to test with pen and pencil or digitally. "The vast majority chose the digital format. Most seemed to prefer it so that they'd be typing three essays rather than writing three essays by hand. We wanted to let students choose what was best for them and speak on behalf of it," Pozel said.
Another teacher has adjusted to a partially virtual exam as well.
Allison Lauber de Garza, AP Spanish teacher, has hosted boost sessions to practice with the new Digital Audio Capture technology that is required for the AP Spanish exam. The test for Spanish is mostly on paper with an audio recording part for the oral exam. In the past students have used small recording devices but Lauber de Garza offered to make the switch to using computer technology this year."In general, the education system is moving more towards a technological means of assessment. So to stay on pace with this it made sense to use the new digital audio technology for recordings in the AP Spanish exam," Lauber de Garza said.
AP tests will begin on Monday, May 3 and will continue through Tuesday, May 18. Makeup exams for students who are unable to attend in-person testing will take place in the summer to accommodate missed exams.
Leave a Comment
About the Contributor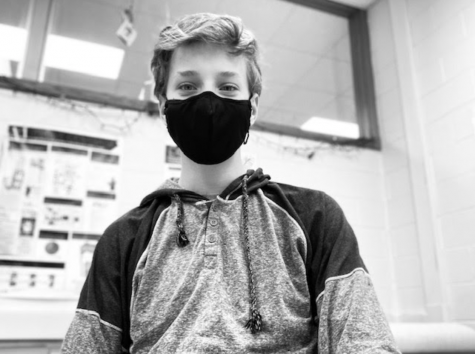 Alex Wypiszynski, Staffer
Alex Wypiszynski is a sophomore at Homestead high school. He has had a passion for photography for a few years now and has taken photos in some of America's...