Students' artwork starring in upcoming gallery walk
As the end of the school year approaches, the date draws nearer for students and staff to view submitted artwork at the Homestead Gallery Walk.
On May 24 through May 28, the Homestead Gallery Walk will be available for viewing by students and staff.
Submissions for the art gallery are due by May 17, and you do not have to be in an art class to submit work. Students must fill out a Google slide and either drop off their work in an art room or submit it digitally.
"The location will be the art portion of the 600 wing outside the studios. The school is invited to take a 'gallery walk' at some point during the week to view the art," Kat Hustedde, art teacher, said.
Art can play an important role in the creative expression of many students.
"For some, art making is pure therapy. For others, a welcome distraction," Hustedde said. "We hope those viewing the show will find some kinship with the artists as we bring this highly unusual year to a close."
The pandemic has made this year's gallery different from many previous.
"The need for 'take home kits' this year reduced the size/scale of most artwork and limited media options as well. We received fewer submissions than usual, even with the print option for distance learners," Hustedde said. "Even so, we are proud to feature the work submitted as a snapshot of the creative energies expressed by our students during these unusual times."
"The Homestead chapter of National Art Honor Society puts on the art show each year," Hustedde said. "The goal of the show is for students to gather, display, promote and celebrate student artwork from our school."
The pandemic disrupted last year's art gallery, which took place only a couple of months after lockdown started.
"During lockdown a year ago, we were able to manage a small digital-only show on a Padlet for students and community to view," Hustedde said. "This year, with blended learning we hoped to resume a physical in-person show for those able to visit on site during the school day. While we won't have our traditional grand opening and awards ceremony, it's important for student work to be shared, seen and experienced."
For those not able to attend the gallery in-person, there will be once more a digital art gallery available where students' work can be viewed online.
"I love the whole process of gathering work, mounting it for display, helping students hang the show and of course enjoying the end result with them," Hustedde said. "Their art is a part of who they are, and it can be a little intimidating to put it out there for public consumption."
"I'm proud of the NAHS chapter and all the students who volunteered their work to transform our hallway, even if only for a week."
Leave a Comment
About the Contributor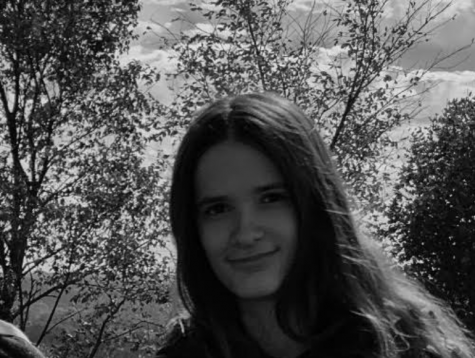 Breanna Ruppel, Staffer
Breanna Ruppel, a sophomore at Homestead High School, is a dedicated student. She is delighted by the chance to advance her writing skill; planning to,...