AP Physics students embrace cherished traditions
High above the ground on bleachers that hosted hundreds of cherished fans on warm fall nights mere months ago, a singular AP-Physics student shivers in the brisk December weather and outstretches a gloved hand. Looking down upon her peers whose eyes gleam as they anticipate her impending success or failure, the girl takes a deep breath before letting go of her cold, white egg and attentively watching it free fall down into its designated box, visibly defying the odds that other people's eggs with their broken shells and runny yellow yolks could not. As her classmates break out into cheers and her teacher's clipboards fly up into the air with excitement, the girl grins, relishing in the reality that all of her calculations and choices brought her this feeling of joy rather than academic embarrassment.
Scenes like this play out each year when the Physics students complete the "Egg Drop Lab."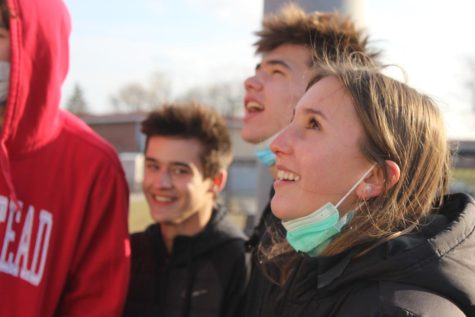 "It was so windy that day and aiming from the top of the bleachers was ridiculously nerve-wracking," Hana Nasir, junior, said. "Afterwards I was really happy that I was able to successfully create something so special."
In all of Homestead's AP Physics classes the stakes are high as students work through complex material and difficult assessments with the hopes of securing the coveted but ever-elusive 'A' on their report cards.
"The class was definitely challenging during those first couple of weeks," Zach Meyer, junior, said. "The subject was just so different from anything I had done before."
Teachers Jeff Patterson and Ashley Meulemans consciously leave space in the curriculum for imaginative activities that simultaneously relate to content and remain fundamentally enjoyable at their core.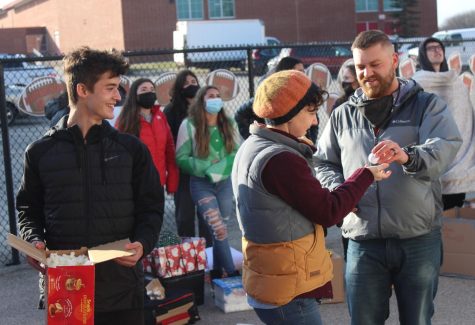 "The projects that we include do a phenomenal job of displaying the content and allowing the students the chance to actually apply it in real life," Patterson said. "Incorporating them into the class is a nice change of assessment outside of quizzes, tests, and labs because it just gives students another way to display their knowledge of the information."
In a separate hands-on lab experience, AP Physics Two students, Alex Vlasik, Ryan Giesen, Marcus Rilling, Alex LuMaye, Colby Sehnert and Benjamin Martyn participated in a well-anticipated competition across campus: The Boat Race during the week leading up to winter break.
Inaugurated by longtime AP Physics teacher Paul Sivanich, the boat races allow students to apply their knowledge of the principles of buoyancy as they prepare cardboard ships to carry them safely across the treacherous waters of the Homestead swimming pool.
"I started the boat race during my second or third year at Homestead because it seemed like a good opportunity to have a lot of fun and also work with some authentic science at the same time," Sivanich said. " I always felt that despite how academically difficult the class could sometimes be, I had to really screw it up if I couldn't make Physics fun."
The Olympic theme song played as dozens of students filled into the aquatic center ready to serve as an audience for the tight race. " Two of my friends from the group asked me to come and I was really psyched that I got to go and watch with my PLTW class," Morgan Valentino, senior, said.
Once the enthused "GO!" lept from Meulemans' mouth the boys were off—driving their makeshift paddles into the water with a robust sense of enthusiasm that only sprouts from good-old-fashioned juvenile competition.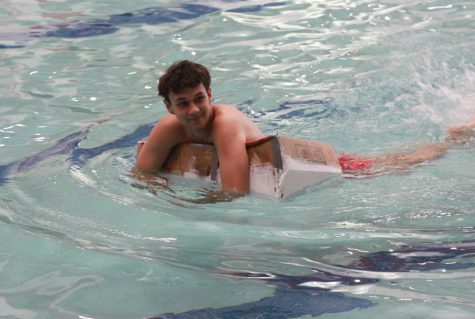 Within the first ten seconds of the race, the two boats helmed by Vlasik, LuMaye, Sehnert and Martyn anticlimactically fell apart as the audience broke into laughter and snippy jokes.
Dejected, but ultimately not defeated, the boys grabbed onto loose pieces of cardboard and started paddling, meter-by-meter, to the finish line.
"It was tough not getting too far in the race, but we had a blast building our boat and getting playfully competitive with the other teams," Vlasik said.
On the opposite side of the pool, Rilling and Geising cheered as their boat decked out with airtight duct tape and a swanky black pirate flag spun around with ease, unaffected by the threats that lead to the downfall of their peers' vessels.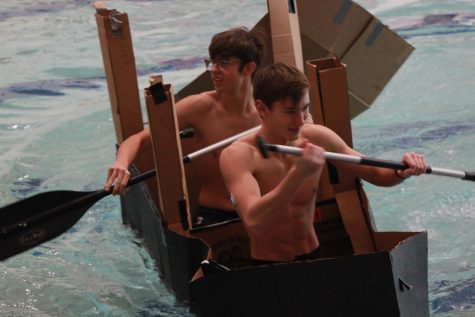 "It was epic because we finally got to prove that we were better than those other dudes," Geising said.
After the shattered eggshells were swept up and the soggy cardboard was retrieved from the pool, the AP Physics students returned to the space that serves as the heart of all of their exciting experiences: the classroom. With every miscalculation, disappointing test grade, and groan of frustration these students learn more and more about the essentiality of resilience and creativity within the confines of Homestead and beyond.
"AP Physics is challenging," Nasir said. "But I know that it's a really important subject that gives a different kind of perspective on the way the world functions and how we interact with our surroundings."
Leave a Comment
About the Contributor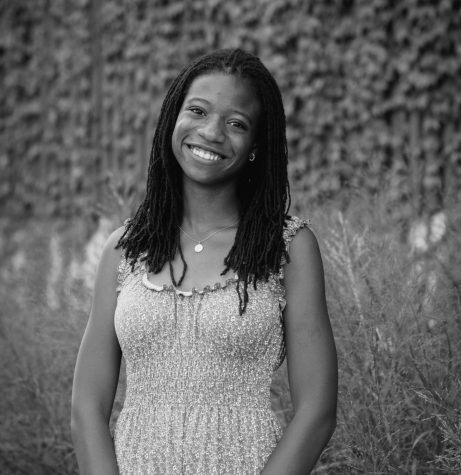 Blair Martin, Assistant Editor
Blair Martin is currently a senior at Homestead High School. She's beyond psyched about continuing her work in the pubs lab and using the lessons she...