Administrative Assistant leaves school
Linda Dean takes a new job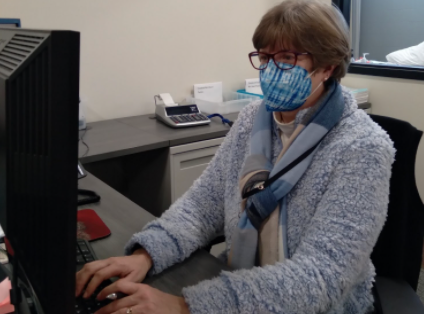 At the start of second hour every morning, the school day was put on pause as a warm voice bursted through the PA system over the low murmur of mindless conversation floating around the building. Students inattentively listened to the daily announcements filled with club obligations and helpful reminders that echoed throughout the empty halls and bustling classrooms alike.
For the majority of students, it was just another part of their daily routine.
But while teens laughed at the latest gossip and teachers sipped on a warm cup of freshly brewed coffee, a chapter was closing for one member of the school's faculty. Tucked away in the left hand corner of the student office, that warm voice was reciting the daily news for the last time on Jan. 29, 2021.
That voice was Linda Dean, administrative assistant.
After working at Homestead for over seven years, Dean decided it was time to pursue a different career that would better accommodate her needs.
"I would like to work full time," Dean said. "My job right now is a school year job, so I'm here a little more than students but not a lot more. And I like to be really busy and working, so I decided that it was time to find a job that was a full year instead of just school year."
After announcing her withdrawal from the school, many were surprised by her departure.
Blair Martin, senior, said, "I'm shocked; she has been such an integral part of my high school experience and a lot of other people's high school experiences, so her leaving at all is strange."
Dean's helping hand and kind disposition touched students and faculty alike. From handling the lost and found, assisting student council and of course running announcements, her actions were of use to the Homestead community in more ways than one.
"She was the sweetest woman whenever I went in to do the announcements. She was always very supportive and willing to help me out," Martin said. "She always had a really good attitude, even when you were making a mistake or doing something wrong; she was willing to help you."
Before Dean started working at the school, she was in search of a job and found a position at Homestead where she utilized her previous experience as a teacher at Grafton High School to connect with students and carry out her responsibilities.
Nancy Kress, executive assistant who worked closest with Dean, said, "She was always really good with kids; sometimes I don't have patience with some children, but she always seemed to have a very good time with it."
Having a job with a very social environment led to many unforgettable moments. Such as when the automated bell system unexpectedly stopped working leaving Dean to quickly come up with a solution.
"7:25 came, and there was no morning bell," Dean said. "But I needed to read the pledge, and I didn't really know what to do. So I got on the announcements and I said, 'ding, ding, ding' and then I read the pledge. For weeks, people would come by my desk and go 'ding, ding, ding'. But it worked!"
The fond memories Dean created also extended to the more conventional aspects of her job.
"What I'll miss the most is reading the announcements and putting them on the message board, and reading the pledge in the morning. I'll miss that a lot," Dean said.
Dean's efficiency in her work made it especially hard for the school to see her go.
"She's one of the best that we have ever had. She's been very instrumental in the school, and she's a big part of it. A big hole is gonna be left," Kress said.
Her new position was working for the Village of Grafton as an administrative assistant. The workplace is just five minutes away from her house, making it very convenient for her. "I can ride my bike to work which I'm really excited about," Dean said.
The joy of making this transition also came with its fair share of uncertainty. Dean reflected on a time well spent at the school.
"I just wish Homestead and the staff and students the best. I've loved my time at Homestead, and it was a hard decision to leave, but I'm hoping to still come back and see plays and musicals because that has been one of my favorite parts as well," Dean said.
Leave a Comment
About the Contributor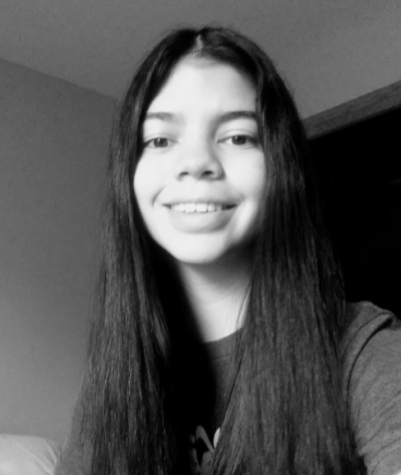 Abigail Maxey, Co Editor-in-Chief
Abigail is currently a senior who enjoys creative writing and mingling with friends. In her free time, she frequently plays guitar, reads, and hangs out...