The final stretch
After seven incredible seasons, the senior boys varsity distance runners approach the end of an era with their final season of running together.
Cullen Boyle
Adam Dolan
Nathan Grunewald
Kyle Knutson
These four athletes have been running together on varsity since freshman year. As a part of both cross country and long distance track events, their entire year is busy with training and competing. Hours of hard work and dedication has come down to this final spring season.
They have come a long way since.
Both Gruenwald and Boyle began running early on, around sixth grade. They both attended Lumen Cristi, and when figuring out what to do as a fall sport, they both decided to give cross country a shot.
"I realized I was decent at running and found that I enjoyed [it] and the people in [cross country]. For these reasons, I chose to run," Boyle said.
Knutson was in a similar situation; however, he attended Steffan middle school. "I started running in middle school to get in shape for basketball and other sports that I played at the time," Knutson said.
A true passion for running sprouted from here for these three boys.
As for Dolan, he began running his freshman year for Homestead's cross country team. Though inexperienced at the sport, he proved to be fast and ended up securing a spot on varsity. Gruenwald, Boyle and Knutson's past experience allowed them to join the varsity squad too.
The group dynamic among Boyle, Dolan, Knutson, and Gruenwald began to form, as a result of them all being freshmen and competing together on varsity. That year, the team placed 8th in the conference.
"Looking back, we were a pretty bad team, but also a very young team," Boyle said, reflecting on their freshman year.
Though their first season together wasn't their strongest, a true bond among all four boys began to shape.
As the spring of 2019 approached, the boys continued to run and joined Homestead's track team. As a part of long-distance events, such as the two-mile, mile, 800 meter, and distance relays, their cross country experience allowed them to continue to be on varsity and train with the fast upperclassmen.
All four boys continued to run alongside each other, only improving as time went on. They began to see record-breaking success their junior year. Both the cross country and track team won their conference, with all four boys contributing to the teams' successes.
As senior year approached, the team had become unstoppable. Their year-long training was unquestionably paying off.
"Our biggest team accomplishments were undoubtedly from our senior year cross country season. We won every single meet up to Cross Country State," Gruenwald said.
The 2021 WIAA State Cross Country Championships took place in Wisconsin Rapids. Despite the team not winning overall, they were able to secure second place. Individual highlights from the boys include a 16th place finish from Knutson and a 21st place finish from Boyle.
"At state, we had a disappointing but still exciting second-place finish," Gruenwald said.
This allowed the team to qualify for the 2021 Nike Invitational Regional Championship Race in South Dakota. Putting in even more dedication and effort, the team ended up placing third out of several teams from seven different states. The boys and their team even ended up beating Onalaska High School, the team that just barely beat them at state.
"[We had a] strong belief that we could be the best team in the state and [put in] a lot of hard work," Boyle said.
Coming from a successful final cross country season, the four boys have high expectations and hopes for their final season together in Homestead jerseys. The 2022 track season will be their 8th one together.
"As a team we hope to qualify for state in the mile, 2 mile, 4×800, and as many other events as possible. With that we hope to win the 2022 state track and field championships," Dolan said.
Gruenwald, without a doubt, agrees. "As a team, I hope we can win state. We are strong contenders."
With strong team goals comes strong individual goals as well.
"As an individual, I am looking to break 4:30 in the mile, 2 minutes in the 800, and place top 5 at conference in the 800 meter," Dolan said.
Gruenwald, "(hopes) to run under 4:35 in the mile and run under 2:05 in the 800 meter."
"I'm looking to run sub 4:30 and sub 9:30 in the 1600m and 3200m. I'm also looking to advance to state in the 3200m and in the 4x800m," Boyle said.
Knustson, "(hopes) to make it to state in the mile and in the 4×800 and place in the top 4 in each event."
Of course, their final season together has created a sense of bittersweet feelings for the boys.
"I am excited to have one more season with my best friends and to finish what we have set out to do for the last four years, win a state championship," Knutson said.
Their years together has created strong reputations for Homestead's running teams, and,the memories and opportunities these past four years has created for all four boys are unforgettable.
Knutson is committed to running D1 cross country and track for Loyola University in Chicago. Gruenwald hopes to join a competitive running club to whichever college he chooses to attend next year. Dolan hopes to continue to run with a club and train for a half and full marathon. Boyle also hopes to continue running, but often questions why.
"The question I have been asking myself is if I truly love the sport of running or if I loved the people I ran with for the past four years of my life. As I pondered this question I realized it was most likely a mixture of both, but the fact that I had to ask myself this in the first place is really a testament to the people I was surrounded by on the cross country and track teams," Boyle said.
All four boys unanimously agreed that their time together on and off the team has created such a strong bond among them, and they will never forget each other.
"This team means everything to me. I have spent countless hours running with them in the freezing cold winters and the scorching hot summers. I have seen our entire team sacrifice so much for the team and to win," Knutson said.
"We're all best friends. I couldn't imagine where I'd be in this sport without my team," Dolan said.
View Comments (1)
About the Contributor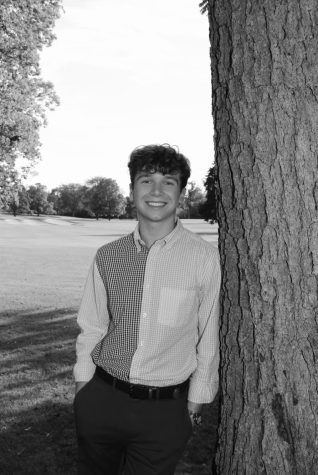 Will Doerr, Staffer
Will is a senior at Homestead High School. He is an avid skier, competing for both Homestead's ski team and Heiliger Huegel's club race team. Outside of...