Senior mathematicians achieve international success
The 14-hour timer began to tick down, second by second, at 8 a.m. As four boys powered up their computers and logged onto Discord, they prepared themselves for a day full of work: math work.
This is the story of Ethan Wang, Jake Schmidman, Eric Wan and Adam Garsha, four seniors who excelled as a team to rise above the 612 other participating groups and qualify as finalists in the international M3 Mathworks Math Modeling Challenge.
The M3 Challenge was established in 2006 and aims to "push teams to their limits of what they know about math and test their ability to work together under strict time restraints." In recent years, Homestead's math team has successfully competed in the challenge that is reserved for juniors and seniors and Wang was excited to take it on himself when he finally came of age.
"Homestead's Math Team has had tremendous success in this competition and in general over the past few years, and I wanted to continue that, which included picking up the M3 competition," Wang said.
When it came time to put together the team, Wang tapped Garsha and Schmidman. He also approached Wan and Elizabeth Castroverde, Class of 2021, because of the rigorous training the two had undergone as members of the math team.
"I have trained extremely rigorously with Eric and Elizabeth for years prior to M3 and I knew how they operated in competition and that they would be a crucial piece to building a finalist team," Wang said. "Jakey and Adam have a level of intuitive problem solving; their ability to learn and grasp new concepts is truly unparalleled."
Wang's tangible passion was enough to instantly excite Garsha and Schmidman.
"When Ethan came around and introduced us to the challenge, he sold it very well," Garsha said. "We saw the opportunity and went for it."
Once assembled, the team was supported by Weizhong Wang, Ethan's father, who has served as Homestead's M3 coach for several years. Mr. Wang helped the team prepare for the challenge with a series of crash courses that simultaneously revealed his impressive mathematics knowledge and experience with the M3 Challenge.
"Ethan's father was really cool," Wan said. "He's learned from coaching the past two years with Andrew Wang and Julian Camacho's era, and utilized all of that experience to help us out."
In 2021, the team was ranked as one of the top 30 teams that competed and was designated with an honorable mention title. The team was also awarded a $1,500 cash prize that they split up amongst themselves.
"I had a great experience competing with the boys." Castroverde said. "They all have really brilliant minds"
This year, the team utilized their individual strengths to collectively excel in using math models to help them solve the prompt "Remote Work: Fad or the Future?"
"Jakey, I'd say, brought a lot of 'paper knowledge' to the table; most of the research paper's editing, formatting and tightening up was done by him, Ethan and Adam did a lot of the model's formatting, and I did most of the coding," Wan said. "We all worked together to brainstorm the actual solutions."
As the day went on, the boys tested model after model, trying to solve the question to the best of their ability.
"We really ended up needing those 14 hours because towards the end we always felt crunched for time," Garsha said.
Throughout it all, the team remained united in their passion for working together to achieve mathematical excellence.
"It's just a lot of focus and dedication and collaboration," Schmidman said. "There's no one person who's totally got his head in the game while the others just zone out not doing anything,"
Twenty-five days passed after the team submitted their 20-page paper for review before a message arrived in Wang's email on March 19 and certified that their work had stood out amongst the 612 other teams and established them as finalists.
"I really didn't believe that we placed in the top six when I got the email," Wang said. "It has been a running joke among us that we are studying for our trip to New York because we were 'guaranteed' to be finalists, so us actually becoming finalists was really funny to me."
Once the other boys got the message, their excitement grew as well.
"I was sitting at home and I saw that Ethan texted our group chat saying `WE'RE GOING TO NEW YORK' with nothing else, and I was like, 'What?'" Schmidman said. "When I opened my email and saw the 'congratulations you're a finalist' message I knew it was legit."
On April 24, Schmidman, Wan and Wang will travel to New York City to present their work to a panel of judges who will further analyze and question their work. The team will also share a cash prize with value ranging between $5,000 and $20,000, depending on how they rank.
"Getting the cash prize is a really awesome added bonus," Garsha said.
Beyond the awards and the prestige, the team has found an immense amount of appreciation for how the challenge has reaffirmed their belief in the importance of mathematics as a discipline.
"Aside from carrying on Homestead's legacy, the competition itself was just extremely interesting to me," Wang said. "Mathematical modeling is a way to use math that I have never experienced before. It introduces a unique open-ended aspect of math that I really enjoy."
M3 has consistently grounded its challenges' problems in reality by tackling issues that have real-world applications such as substance abuse, internet infrastructure, and climate change. This choice has allowed its contest to feel like a way for its participants to grow and exercise themselves as thinkers along with gaining academic recognition.
"Programs and competitions like this really show you that math isn't just this theoretical thing, but instead that it's something that has tangible applications that can help improve the world that we live in," Wan said.
Homestead's M3 team hopes their experience inspires other mathematically inclined students to try their hands at similar challenges and open themselves up to all of the pride and joy that they can bring.
"I have seen attendance and interest for our math team slowly decline over time. If this trend continues, I fear that future students will not have the same opportunities as I have had throughout high school to try and explore," Wang said. "These competitions help hone academic skills, but there are more valuable things in my opinion that can be gained from competing including the formation of a very close-knit group of friends, the taste of the value of hard work, and the true magnitude of work that is required to achieve your goals."
UPDATE (4/25/22): After presenting their work in New York City, Homestead's MathWorks team was awarded the first-place title and will share the $20,000 prize.
Leave a Comment
About the Contributor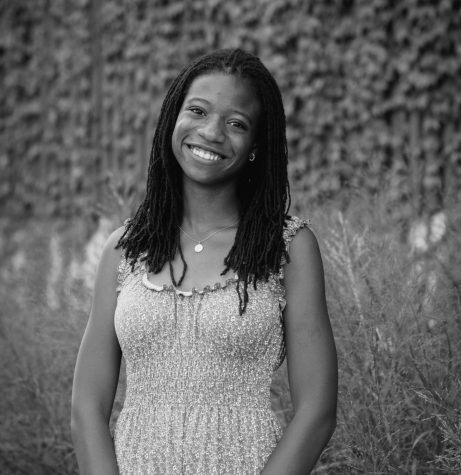 Blair Martin, Assistant Editor
Blair Martin is currently a senior at Homestead High School. She's beyond psyched about continuing her work in the pubs lab and using the lessons she...