Elon Musk buys 9.2% stake in Twitter, potentially more
On the morning of April 4, 2022, Elon Musk, multi-billionaire and the richest man in the world, amassed $2.98 billion dollars in millions of shares he purchased from Twitter. With the intention of allowing for more free speech within the social media platform, Musk then moved on to look for a more active role in the company, hoping to impact the platform on how much access users have to what they look at and post.
Musk, quickly becoming Twitter's largest shareholder with a 9.2% stake in the company, bought his portion of the platform in order to promote more free speech within the application, potentially allowing users to build their own algorithm so they are able to customize the tweets they see, "instead of relying on Twitter to curate posts" (The New York Times).
However, Musk's net worth of $270+ billion dollars is intimidating to the owners of Twitter, who fear he has plans to buy out the company entirely. Surely enough, early Friday, April 15, 2022, Musk announced that he plans on buying out the company completely with an offer worth over $40 billion, in order to forward his plans of promoting free speech entirely within the platform. On April 22, 2022, Musk secured $46.5 billion in funding in order to further his plans in buying Twitter, preparing him to make an offer.
After tweeting "oh hi lol" after purchasing his 9.2% stake in the company, Musk began to poll his followers on improvements they would like to see Twitter make, such as adding an edit button. 73.6% of respondents said they would like to see an edit button on Twitter, while 26.4% responded no. This survey backs Musk's intentions to make Twitter more user friendly and more accountable for freedom of speech.
Adam Garsha, senior, describes free speech on a social media platform as a crucial component to the general well being of public transparency. "As social media has become dramatically more important in recent years, the ability to spread ideas on social media has become essential for businesses, politicians, and others. Without free speech on social media platforms, certain ideas can be suppressed just because the moderators of the site disagree with them," Garsha commented.
While most can agree that free speech is an important aspect of American freedom, the question of when censorship is required becomes a heated debate. "Free speech is a positive force until it leads to a crime. For example, defamation and libel are crimes. Threatening someone is a crime," Garsha said. Where to draw the line between lies and opinions is a seemingly difficult task, one many believe Musk is not up to, as he may let his political and personal beliefs cloud his judgment while censoring or opening up the app to different previously silenced users.
Musk's vision for Twitter leaves most people wondering how his asserting voice will affect the current operation of Twitter, and how he will be able to influence the inner workings of the social media platform. While some people believe Musk is biting off more than he can chew, being the CEO of both SpaceX and Tesla, others believe Musk could quite possibly be a real asset to the Twitter team. Only time will tell his true intentions with his large stake in the company, and if he will follow through on purchasing the growing social media platform.
Leave a Comment
About the Contributor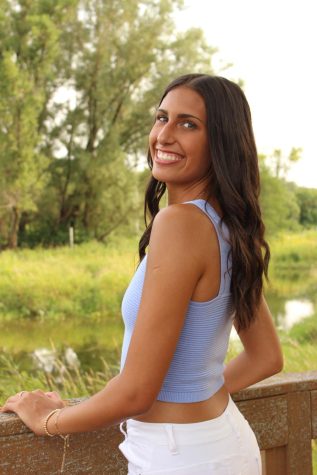 Olivia Patel, Staffer
Olivia Patel is currently a senior at Homestead High School. She runs for the cross country team, skis on the ski team, and plays soccer in the spring....