Theater prepares for spring play
Behind the dreamy framework of fairy tales passed down throughout the generations lies an untouched, often grotesque background disguised by magical characters and happy endings. In Homestead's spring play, The Secret in the Wings, the darker themes from childhood stories are brought to light.

The Secret in the Wings is told through an overarching story of a girl, her monstrous babysitter and the disturbing fairy tales he reads to her which ultimately come to life throughout the play.
In contrast to the whimsical nature of the department's previous show, Cinderella, the spring play takes on a much darker tone.
Hannah Kendzor, senior and member of the ensemble, said, "It's a much darker, creepier, and grimmer show than we usually do, and it takes place in a basement, so it's very different from what we've done in the past."
The shift in tone from previous productions is not the only addition that has been implemented for this trimester's play.
Leah McGowan, sophomore and lead character Heidi, said, "This one is kind of weird in general. It's kinda creepy, but there's a lot of movement and weight sharing that makes it another level. There's always a bit happening somewhere, so you could be watching the main focus but then behind that there's constantly something else happening."
Along with the physical aspects of the show, the inclusion of the aerial silks is a notable feature of the play.
Amelia Figg-Franzoi, director of The Secret in the Wings, said, "I didn't know what I wanted to do with the spring play, but I knew I wanted to do movement and bring back aerial stuff."
Due to the show being composed of many different stories rolled into one, some cast members' roles are made up of multiple characters as opposed to just one.
"All of our changes from costumes are happening on stage. We're essentially kids playing dress up throughout the show…It's very unique because it's not how it normally is where you run off stage and then come back and you're a new character, you do that change onstage which is new for a lot of us," Kendzor said.
The individuality of the play also led to more creative control for student actors to make it their own.
Figg said, "The students have a lot of ownership over it. The adults are guiding them, but we let them come up with ideas and create things, which we haven't done in a very long time."
For seniors on the cast and crew, the show is a bittersweet moment as they round out their time as a part of the Homestead theater department.
Kendzor said, "I don't think it's fully hit me yet, I think it probably won't until the show weekend because I get so wrapped up in the work of it that I don't even think about how this is the last time I'm gonna be doing this. But there have been a few moments where I'm looking at everyone else on stage like wow, next year this is gone."
For others, the meticulous work of crafting a production has produced a tight knit community of peers and friends.
Emma Spitz, senior and member of the costume crew, said, "The best part about being on the costume crew was being able to make the play come alive from behind the scenes and being able to make great memories and friends that will last a lifetime."
In a word of advice for upcoming seniors, Kendzor relayed the importance of being a team player as she has learned from her four years as an actor.
"Listening is just as important as speaking is," Kendzor said. "Sometimes in order to be the best leader for the department, you need to listen to what everyone else is telling you, even underclassmen. The dynamic changes a lot every year with new incoming freshmen and the graduating seniors leaving. What the department needs to thrive is so different that the seniors who take over that leadership role need to be able to adapt, but I think they're going to be great."
The Secret in the Wings takes the stage from April 29 to May 1 at Homestead High School.
Leave a Comment
About the Contributor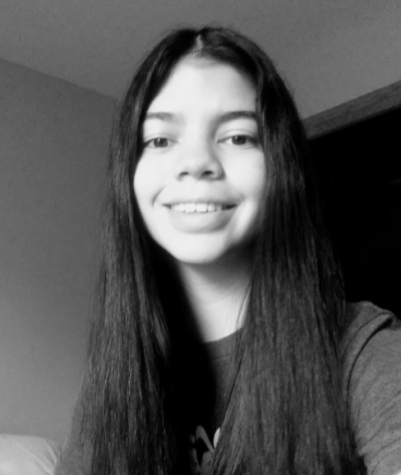 Abigail Maxey, Staffer
Abigail is currently a junior who enjoys creative writing and mingling with friends. In her free time, she frequently plays guitar, reads, and hangs out...