Best Buddies bonding begins
Laughter and conversation echo as buddies and peers pick pumpkins, walk through corn mazes and get to know one another during the Best Buddies fall outing.
Best Buddies is a group where students with special needs get access to an environment to meet more of their peers. It is well underway at Homestead this year, with the club already having multiple meetings and events.
Notable experiences include "going to the pumpkin patch and marching in the Homecoming parade," Sara Boeck, special education teacher and Best Buddies advisor, said.
Buddies and peers both enjoyed the chance to spend time with the group and meet new people. "I really liked going to the pumpkin patch. I got two pumpkins," Cohen Peters, freshman and club buddy, said.
This year, Best Buddies has a record number of participants, with over 70 students from different grades joining the club.
"We have a really big turnout, which is great to see," Boeck said.
Having this many people allows buddies to connect with more peers and make new friends.
"I like getting to meet more people," Peters said.
Students also get the chance to "interact with people who aren't the same as them, who view the world differently, but positively make an impact on everyone," Lily Oberneder, junior and club co-president, said.
"Our goal in Best Buddies is to foster this inclusive atmosphere in which members can form genuine, lifelong friendships," Nathan Moldavsky, senior and club co-president, said.
These friendships are fostered through the time club members get to spend together, whether this be in the yearly trip to Glaze Pottery, the Friendship Walk, Game Night, the Homecoming Parade or any of the other events held by Best Buddies.
"I love being a part of something with such a big impact on people. It is a good feeling knowing that you are the one planning all these fun activities that people enjoy," Oberneder said.
Best Buddies proves itself to be a positive experience for everyone involved.
"Both the peers and the buddies get a lot out of it," Boeck said.
The club has set a solid foundation for a good school year, and looking forward, a bright future throughout the coming years.
"It's been incredible working alongside other passionate leaders at HHS and seeing our work come to life during our chapter events…I'm excited to see what Homestead Best Buddies will do next!" Moldavsky said.
Leave a Comment
About the Contributor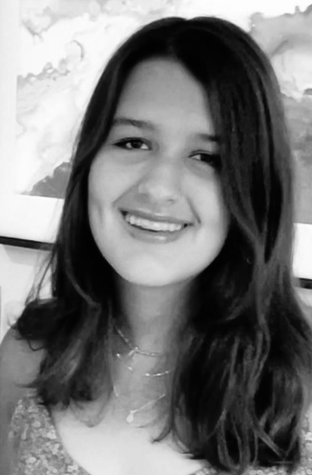 Sasha Djurasovic, Co-Editor
Sasha Djurasovic is a sophomore at Homestead. She is super excited to spend more time with Publications and work on design. In her free time she enjoys...