Closet Closeup: Mira Dahms
Mira Dahms, a senior, spends her free time painting, running, and searching for the perfect pieces to add to her closet.
Dahms describes her style as "casual, but whimsical. I want to say European, but I don't know if that's the right word to use. I feel like I have a mix of everything. I get my inspiration from Pinterest and Instagram by exploring on my own. I don't get it from a specific person."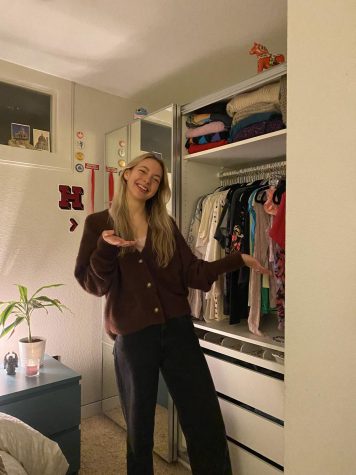 She tends to opt for meticulous searching through racks of thrift stores rather than purchasing new and enjoys the thrill of fashion itself.
The industry itself is filled with micro-trends and a fast complimentary cycle of buying and discarding clothes almost immediately.
Dahms tends to lean the opposite.
"I choose pieces I really like rather than buying things that might go out of style really fast- Quality over quantity," Dahms said.
Let's peer into the life of Mira's closet, and her five favorite pieces of clothing!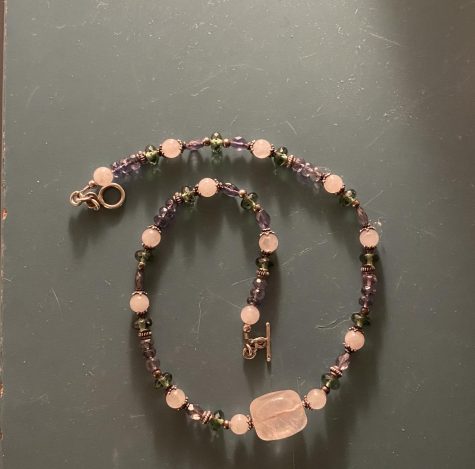 Dahms's first favorite piece is a glass beaded necklace, complete with a pink, purple, and green color palette. Unique jewelry is a staple for anyone looking to spice up their look.
"I thrifted this necklace, and I love the stones. It goes with everything," Dahms said.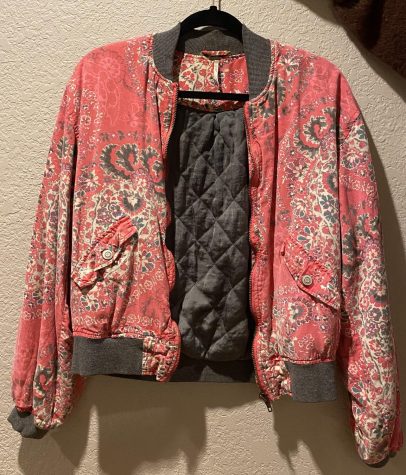 Dahms' second piece is a red and grey paisley-printed bomber jacket, perfect for fall and spring. It is a statement in and of itself but could be paired with other patterns for experimentation.
"This is from Free People, but I thrifted it! And I feel like the piece says it all," Dahms said.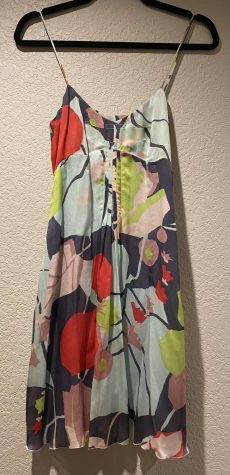 Dahms's third piece is a flowy mini dress, illustrating colorful florals and botanicals. It is a staple to own for any event or a warm day out.
"This is one Giorgio Armani, but I thrifted it. I love this piece because it's super fun and colorful. I like putting something under it for spring, or wearing it as is for summer," Dahms said.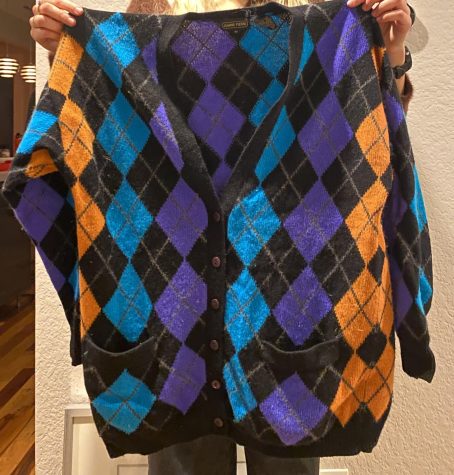 Dahms's fourth piece is an argyle print button-down cardigan, with bright contrasting colors of blues and orange.
"So, I thrifted this and I like it because I feel like it's very versatile and comfy, and warm for the winter," Dahms said.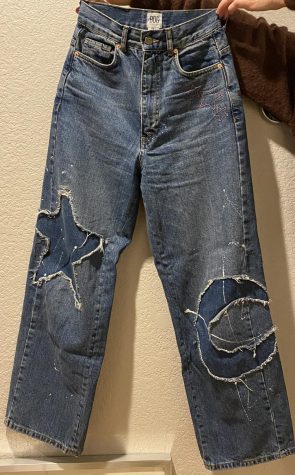 Dahms's last piece is this pair of sun and moon jeans, with various painter stripes and rips. Basic denim is a staple in everyone's closet, but playing with variations in patterns is essential for elevating one's closet.
"I got these jeans from Urban, and I love them because they're super baggy and comfy and I love how artsy they are," Dahms said.
Dahms will continue to pursue fashion through her weekend shopping and daily outfit choices, re-introducing old pieces with the warmer months coming back.
Leave a Comment
About the Contributor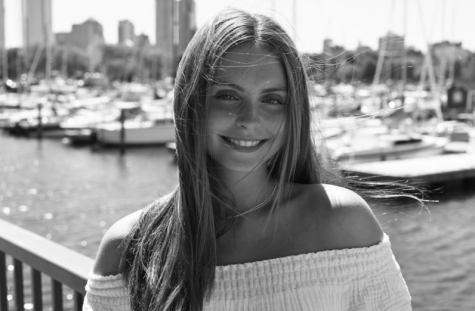 Megan Carr
Megan Carr is a senior at Homestead High School. She leads the FIDM Fashion Club and is also a member of the student council. When she is not at school,...