Success for the 'Jugmen'
The boys swim and dive team honored their seniors' contributions on Jan. 19
The boys swim and dive team has shown tremendous dedication and success this winter season. A big part of that success was owed to the 11 seniors, underclassmen, and three coaches, all of who have contributed to the team in different ways. Senior night highlighted the accomplishments and memories these 11 boys made over their high school careers, which will never be forgotten.
The Jugmen, a nickname that has been passed down for many years, celebrated the contributions the seniors made these past few years at Senior Night. The senior Jugmen gave speeches and participated in sending-off traditions, such as jumping off the diving board in their parkas. "Senior night was very special. All of us seniors had such a fun time swimming in our last dual meet at home," Devin Testin, senior, said. "With everyone ending the season together, it really made the whole thing so much more memorable."
Overall, this year's team has exhibited dominance so far in the swim and dive realm of the North Shore Conference. The boys have taken home a victory at every dual meet, leaving them with an undefeated record within the conference.
David Krol, senior diver, is very satisfied with the outlook of his final dive season at Homestead. "So far, this season has been really strong with personal records and team finishes. I hope my progress can continue, potentially with a victory at the state championship," Krol said.
As senior Reese Minning joined the team his sophomore year, he believes this particular season has tremendous potential. "This season has been really good so far with the team breaking a few records. Hopefully we can keep it up and have one of the best seasons yet," Minning said.
Not only have the seniors helped the team in tremendous ways, but so has the coaching staff. Coaches Mark Gwidt and Andy Bosley have returned for another season, while Julia Hoefs is coaching the boys for the first time. The three have collaborated to create a powerful team with an unbreakable bond.
"Coaching the boys team is a very different dynamic than girls, but I am having a blast. I have quite a few of the swimmers in my classes right now, so it has really helped me to form solid relationships with the boys on the team," Hoefs said. "They are a fun bunch, but also know how to put their nose to the grindstone and work hard when they need to."
Of course with all the success has come some room for improvement. Looking into the future, the boys are hoping to better their times. "We've been working really hard and results are improving, but the job's still not done," Silas Toppe, junior, said. "We're hoping for big things this year, and dropping time will help us get there."
The boys must put forth their best effort to focus on these techniques to prepare for post-season meets. This coming month is an important one for the Jugmen, as conference, sectionals and the state competition approach. "
I'm excited for the final month of our season; it's when all of our hard work finally starts paying off," Connor Kwiatkowski, senior, said.
Leave a Comment
About the Contributor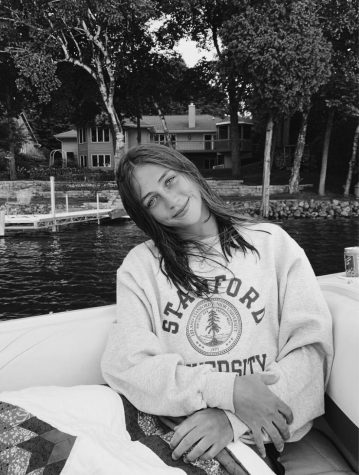 Lauren Van Vooren, Staffer
Lauren Van Vooren, a junior at Homestead High School is committed to academic and athletic pursuits. She has enjoyed participating in the Homestead's...