Freshman Friday: Kristin Wiebe
Every Friday, Highlander Publications chooses a freshman to be featured in "Freshman Friday," giving the student population the opportunity to get to know its freshman class. Meet this week's featured freshman, Kristin Wiebe!
Have you ever broken a bone?
Yes, I have fractured the growth plate in my foot, and now I have a screw in my foot.
What is your favorite TV show?
My favorite TV show is New Girl
Favorite place you've traveled to?
My favorite places I've traveled to are Yellowstone National Park and London
Would you rather fight a chicken to death every time you get in a car? Or fight an orangutan to death once a year, but you get a sword? And why?
Orangutan because I get in and out of the car a lot with sports and school, but mainly because you get a sword which makes it way easier.
What is your favorite class?
My favorite class is either English or Math when I understand it.
How was your transition from middle school to high school?
It was fun but difficult. High school is way harder, but it gets easier once you get used to it.
What is your favorite class so far?
My favorite class is either English or Math when I understand it.
What are three words that describe you?
Hardworking, sarcastic, and talkative
What is one crazy fact about you?
One crazy fact is I have choked on mozzarella sticks multiple times in my life.
Leave a Comment
About the Contributor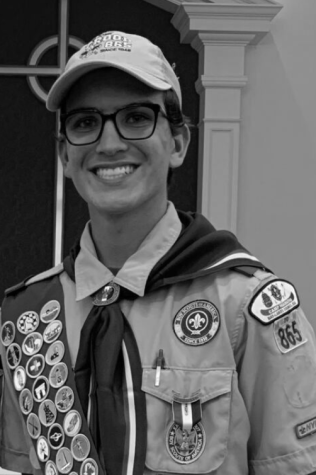 Matthew Seiberlich, Assistant Editor
Matthew Seiberlich is a sophomore at Homestead High School. Outside of Publications, Matthew is an Eagle Scout, historian for the Wisconsin Junior Classical...