Come out, come out, wherever you are: GSA promotes acceptance and unity
With noble intentions and great ambitions, the Gay-Straight Alliance (GSA) reconvened on Nov. 13, 2014, for its third meeting since its conception earlier in October. Covering a broad variety of themes and issues, Homestead's GSA promotes unity and understanding at Homestead to create a more accepting place for people of all sexual orientations and gender identities.
In order to create a more welcoming environment for Lesbian-Gay-Bisexual-Transgender-Queer (LGBTQ) students, the GSA was formed to help people with similar experiences bond and know that there are people at Homestead with whom they could connect.
Jenna Buraczewski, sophomore and co-founder of the GSA, listed her reasons for why she believes that having a GSA is important. "When I first realized that I wasn't straight, I didn't know what to do or who to talk to, and it was to the point that my only resources were the internet," Buraczewski said. "I needed face-to-face contact, and after coming out to my friend Sam during Homecoming, we knew that there wasn't a huge support group outside of Pursuit Lunch, so we kind of started the ball rolling for the creation of the GSA, since I think it's important that people know that there are other similar or supporting people in the vicinity."
Sam Ginkel, senior and co-founder of the GSA, stated his own reasons for why he believes that a GSA is necessary. "Why is it considered to be so rare whenever a GSA exists and why is it considered so out of the norm when other clubs, such as robotics or drama, are considered perfectly normal?" Ginkel said. "We have to reach the point where having a GSA is considered normal."
Tessa O'Connor, sophomore, claimed that having a GSA is important for her since "it's important to help spread awareness for both LGBTQ and straight people."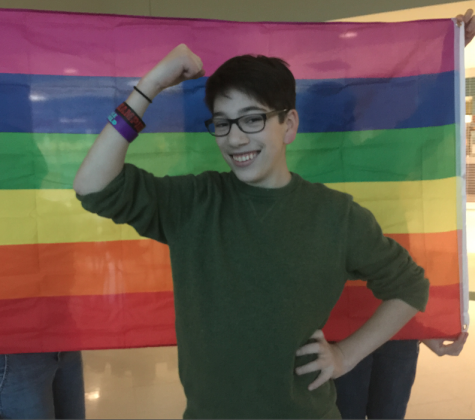 The need for the GSA has also been prompted by various forms of bullying. While most GSA members claim that there is no overt discrimination evident at Homestead, undertones of homophobia and transphobia do exist. Buraczewski said, "I've faced indirect discrimination in the form of gay jokes, homophobic comments or 'tranny' jokes, and it makes my blood boil."
This discrimination similarly harms those who identify as heterosexual, as these notions of what constitutes homosexual or heterosexual behavior can lead to preconceived labels and judgment. Ginkel said, "As the only guy in Core Strength, people automatically assume that I'm gay or transgender or some other combination of the sort, and it's frustrating to be classified as something even before someone takes the time to understand me."
Besides encouraging acceptance, the main goal of the GSA is to spread awareness and increase visibility throughout the community in order to improve the situation for Homestead's LGBTQ students.
Buraczewski explained, "Visibility is extremely important. You can't hate your friends, so if you know someone who has come out to you, you're going to be much nicer to queer people as a whole because why would you be mean to someone when you know that by doing so, you're being mean to your friend?"
There are also minor, yet growing plans to influence the curriculum of Homestead to be more inclusive, particularly with the existence of an LGBTQ community.
Ginkel said, "Talk about [queer history] more and make it an issue that people talk about. Don't just skip it in history class. Don't go 'We're talking about women's history, African American history and we're going to skip LGBTQ history and move on to the immigrants. It's stuff like that that frustrates me the most."
While there is no particular theme with the GSA, its members tackle a new theme each week. The theme of the first week was a simple introductory in which each member introduced themselves, as well as outlined what the club was about. The week before Halloween, the GSA explored the theme of "Fears," in which each of its members answered the question "What scares you?" The fears theme proved successful, cultivating bonds and establishing a sense of closeness between its members.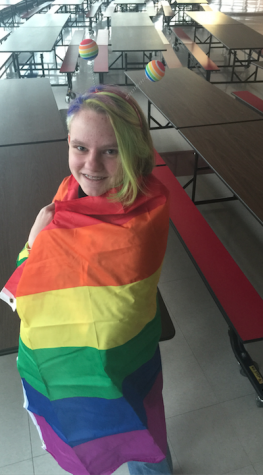 Buraczewski further explained, "We started out talking about normal fears like spiders and the dark, but then it turned into bonding time when we decided that octopi are the scariest things on the face of the Earth and that spiders should burn in purgatory. But afterwards, we decided to talk about the basis of our deepest fears [relating to LGBTQ issues], such as coming out, and whether or not the bases of our fears were rational or not."
Future themes that they plan to cover include a poster campaign, mirroring the motivational role model posters posted on each teacher's door, the creation of an LGBTQ International with the aid of various AFS students, and an LGBTQ history presentation focused specifically around the Stonewall Era and the Stonewall Riots.
Lastly, the GSA aims to persuade more heterosexual supporters into joining the club in order to create a more diverse, welcoming environment for everyone, both queer and straight. Sam Ginkel, senior, claimed, "It's upsetting that people think that if they join the [GSA], then others would automatically label them as gay. It just seems like people don't understand that GSA stands for 'Gay-Straight Alliance' and that it's a combination of the two, and that if we wanted an LGBTQ Club, we could've made one, but we made a GSA Club instead."
View Comments (2)
About the Contributor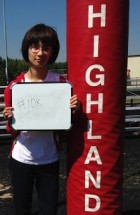 Madina Jenks, Copy Editor
Madina Jenks is a senior and a new copy editor for Highlander Publications. As a copy editor, her jobs are pretty simple: write and help others write....