Injured physically, stronger mentally
The score was 21 to 12 with Homestead trailing in the girls volleyball game against Kaukauna High School at the Arrowhead Girls Volleyball Tournament in the fall of 2022, when Audrey Johnson, freshman starter, suffered her season-ending injury.
"I was a little bit nervous for the season because I wasn't sure what the competition level would be, but I was mainly excited to play at a high level," Audrey said. Although she may have been nervous, her stats for the beginning of the season boasted a 25.5 kill percentage as she was one of the team's primary hitters.
Johnson came down off a block and landed on a teammate's foot. She attempted to walk it off but had to sit back down and wait for the help of her teammates to walk her off the court. The team continued the game, but fell short to Kaukauna.
"I was really shocked. I didn't expect to get injured," Johnson said.
As the team finished the game, one of the trainers came to the bench to examine her injury. Soon after, Audrey left the tournament to go to the hospital on crutches.
"When she sat on the bench and her mom came over, my mind started going elsewhere and I'm thinking all of the 'what if's' and second guessing myself. When her mom took her (to the hospital) I think that's when I was like this is really happening," Allegra Derzon, assistant coach, said
Johnson's x-rays came back and showed that she fractured her tibia and would be out for the remainder of the school season.
"I was really concerned about her and how she was feeling because it is emotionally hard to be injured and sitting. I was concerned about her missing some key moments while staying positive and feeling like a part of the team," Ali Porter, head coach, said.
With eight more games of the season, the coaches and team had to make adjustments in order to fill Johnson's spot.
"It was a big puzzle figuring out which players work well together," Porter said.
Even though Johnson couldn't be on the court, she still was a vital part of the team by taking up a position as a "mini-coach". She continued to be at every practice and game when physical therapy didn't interfere.
"For recovery, I worked out starting from when I got injured doing upper body stuff, so I think that helped me to recover faster, but I also did physical therapy at Children's Hospital," Johnson said.
By the time winter was coming around and club volleyball season came, Johnson was able to get back on the court and play for Wisconsin Juniors Volleyball Club on the 15-1's team.
"My hope for (Audrey) next year, beside being able to have a great season, is to take what she learned and come into the team with a different perspective and evolve into an even better player based on that experience that she had," Derzon said.
Leave a Comment
About the Contributor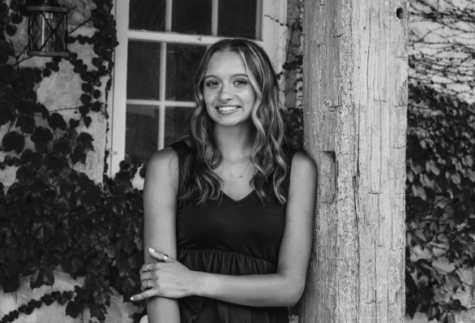 C.J. Starke, Staffer
C.J. Starke is a senior at Homestead. She played volleyball for school as well as club and plans to continue her career at St. Ambrose University. She...