Homestead football scores a win against Grafton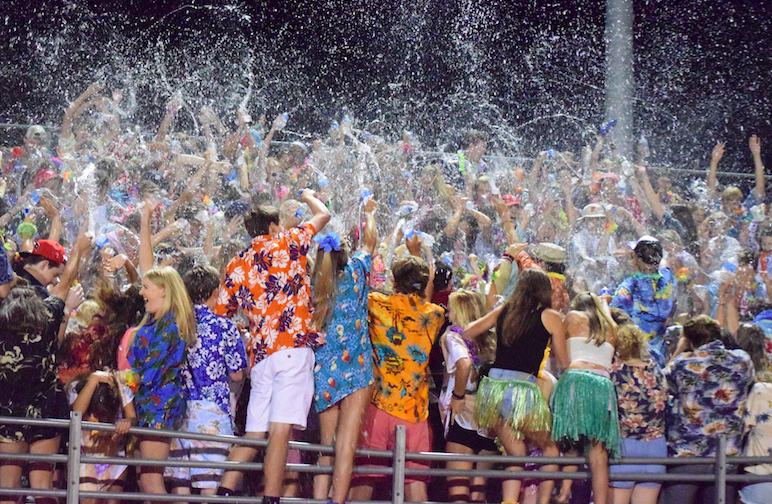 The Homestead Highlanders defeated the Grafton Black Hawks on Friday, Sept. 2 with a score of 49-14. The Highlanders had an advantage against the Black Hawks from the beginning and shut them out during the first three quarters. Never losing their significant lead, Homestead scored a big win on Friday.
"I was happy that our defense was very strong. Offense did their job and I am very happy," Johnny Erpenbeck, senior free safety and outside linebacker, said.
The first quarter started with Homestead scoring a touchdown in the first four minutes. The quarter ended with a nail-biting touchdown with 10 seconds left. In the second quarter, Homestead scored two touchdowns, one interception and one recovery.
At halftime the band lead the crowd through a medley of Queen classics finishing off their routine with "Fat Bottom Girls." Next, the dance team took the field and performed their stellar routine to "Weird people" by Little Mix. To finish off the halftime festivities, the parents of the football players walked along the stands as the student section thanked them for their hardwork and dedication to the team.
The third quarter started the second half on the right foot with Homestead scoring an amazing 80 yard touchdown in the first two minutes. The pass was thrown by Jack Riebau, sophomore quarterback, and caught by Willie Garrison, sophomore running back. Garrison scored a total of two touchdowns on Friday.
"That was a varsity touchdown and that was awesome. It was an amazing experience for the sophomores." Julius Wilkerson, junior quarterback and free safety, said.
Unfortunately, Jordan Gomez, sophomore kicker, was injured and carried off the field on a stretcher during the third quarter.
During the fourth quarter, Grafton scored two touchdowns. The game was ended with a Homestead victory and a final score of 49-14. The student section celebrated Homestead's big win and was very proud of the football team.
"We were unreal, loud and rowdy," Matthew Klimkosky, senior, said.
The Highlanders will take on Germantown next week and hope for another victory.
"It's always good to start conference play with a win. I'm looking forward to the rest of the season and am hoping for another victory next week," Gonzalo Morales, senior defensive back, said.
For more photos from the game: https://drive.google.com/folderview?id=0B0EXkbR5Lhe7N3hzT2xhRXdvV1E&usp=sharing