Crossing the 50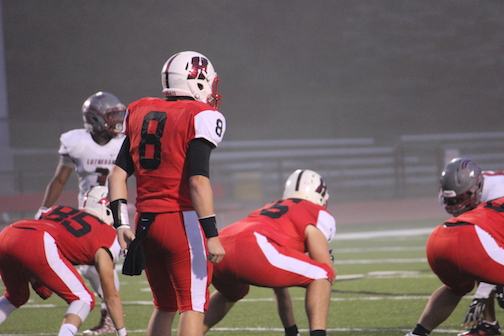 40-0, Highlanders. Four-week winning streak. The ultimate beat down.
As some would say, the mighty Highlanders wiped the floor with Milwaukee Lutheran on Friday, Sept. 14, 2016. Five weeks into the regular season, and the Highlanders are past the halfway mark of the 2016-2017 season before heading into the playoffs. With the student section cheering its heart out behind them, the boys head into this second half with confidence and determination.
After suffering a loss to a long-time nemesis, Arrowhead, this varsity team is determined to not take the "L" anymore this season.
"We started off slow with losing to Arrowhead, but the guys bounced back as a team," Michael Fehrenbach, senior running back, said. "Our defense has stepped up, only allowing [a total of] three points in the last two games." 
The Highlanders' most recent showdown proves that each player's sweat, pain and tears are truly paying off. "The game was great," Matt Hartlieb, junior wide receiver, said. "Offense started slow but woke up after a first couple of drives, and defense played great throughout the whole game."
The team is now gearing up for the back half of this victorious season. With only four regular season games left on the schedule, these athletes are training hard in order to be ready to take on some tough competition.
"Our team is solid and we have a lot of important conference games coming up," Hartlieb said. "I'm really looking forward to the Whitefish Bay game; it should be an exciting end to the regular season."
"Every game from here on out is important, but Whitefish Bay especially," Eric Zoeller, senior quarterback, said.
On Friday, Oct. 7, 2016, the  Highlanders will be suiting up to take down Whitefish Bay High School in an annually-nail biting game. The team was triumphant in last year's clash, and are more ready than ever to challenge them once again at Homestead's homecoming game.
"The entire team is excited for the second half of the season with our eyes set on homecoming against Bay," Fehrenbach said.
With Mr. Dave Keel, head coach, Mr. Drake Zortman, offensive coordinator and Mr. Matthew Wolf, defensive coordinator, pushing these boys to their maximum potentials, the path is paved for the Highlanders' chance to make it back to Camp Randall this November.
This Friday, Sept. 23, 2016, the boys will load up the buses off to Port Washington in search of extending their winning streak.