College Diaries: Imminent stress
The beginning of a new school marks a time for growth and learning. As thousands of kids march through the hallways, accompanied by mechanical pencils with their erasers still attached and sparkling white high-top Converse, there is an underlying current of stress among a certain group of students: the seniors. It should be our year, where we reign over the school and assure that this will, indeed, be the best year yet. However, everyone forgot to mention, though, that there is one small thing that most seniors must do before they can coast through their senior year: apply to college.
Oh, yeah, that one small thing. That everyone claims will predict the rest of our lives. So follow me as I navigate the world of college applications, freak out over deadlines and look to my future.
---
The magnitude of the task ahead of me has finally hit me. Before, the idea of my future and applying to college was just a far-off idea. Now, however, the amount of work I have to do has finally hit me.
Over the past couple of weeks, I have had numerous friends talk to me about college, saying things like "I finished my essays last night," and "I applied to a school yesterday!" Meanwhile, I'm over here like "It's a good thing that I have yet to apply anywhere!" Actually, that is not completely true. I have applied to the University of Minnesota, which doesn't require any essays. The universities wanted answers to two different short answer questions, but they had a shorter word limit, so they did not require a long, extensive and lengthy revision process.
I only just decided which schools I am applying to, and if I am going to apply early action or regular decision to those schools. I have decided not to apply early decision anywhere. Early decision is a binding agreement wherein if you apply to a school and you get in, you must attend that school. You can only apply to one school early decision, and you must attend regardless of whether you can pay or not.
I completely understand those who really like one specific school and who want to apply ED (early decision) there. I, however, want to know what it will cost me to attend college at each school before I would decide to go there.
Just in case you're curious, I am applying to the following schools early action:
University of Minnesota, Twin Cities

University of Wisconsin, Madison

Southern Methodist University

Boston College
When I was looking at the applications of these four schools the other day, I realized all that I had to do, which includes but is not limited to:
Completing questions on application

Completing essays on application

Filling out FAFSA (free application for federal student aid)

Sending recommendations

Sending standardized test scores

Sending transcripts
Don't get me wrong, almost none of these things are all that difficult, nor do they take a lot of time, it's more just a matter of completing them. The only thing that takes up any significant amount of time is writing the essays. That. honestly, is what is really getting me all worked up.
It occurred to me that in order to submit any of the other materials, I must first submit my applications. Since transcripts require at least two weeks notice in order to be submitted, I have to submit my initial application by mid-October. Oh, look! That's in one week! I'll be having a fun time in the coming week writing my essays. Wish me luck, and I will check in on the blog next Monday and let you know if I will actually be able to apply early to all of these schools.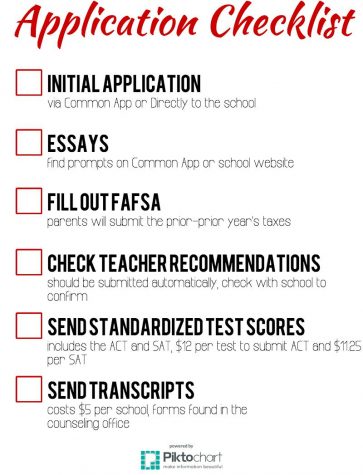 Leave a Comment
About the Contributor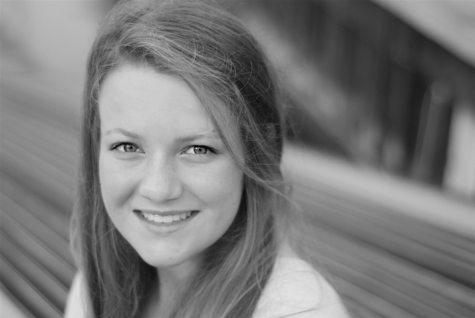 Hannah O'Leary, Editor-in-Chief
Hannah O'Leary a senior who finds herself as the editor-in-chief of Highlander Publications. Hannah loves designing magazine spreads, but finds that she...