College Diaries: Scholarships
The beginning of a new school marks a time for growth and learning. As thousands of kids march through the hallways, accompanied by mechanical pencils with their erasers still attached and sparkling white high-top Converse, there is an underlying current of stress among a certain group of students: the seniors. It should be our year, where we reign over the school and assure that this will, indeed, be the best year yet. However, everyone forgot to mention, though, that there is one small thing that most seniors must do before they can coast through their senior year: apply to college.
Oh, yeah, that one small thing. That everyone claims will predict the rest of our lives. So follow me as I navigate the world of college applications, freak out over deadlines and look to my future.
---
College applications are submitted… and now I have to do everything else. Little did I know, scholarships have been coming and going this entire school year. For example, there was a scholarship for thousands of dollars due during the first month of school. The only reason that I know about it is because I heard an announcement on the day it was due. So, you could say that I dropped the ball on this aspect of my college applications. I did, though, remember to turn in my FAFSA, or the Free Application for Federal Student Aid, to my various schools.
As we all know, money makes the world go 'round. This is very applicable, especially in college. As sad as it is, it is an undeniable truth: money matters. A lot. I do not want to come out of school with hundreds of thousands of dollars of loans that I have to pay back. I don't think that anyone does. Therefore, I need to apply for scholarships. That's right kids, free money. We all want it; we all need it. And I'm here to help you get the most bang for your buck.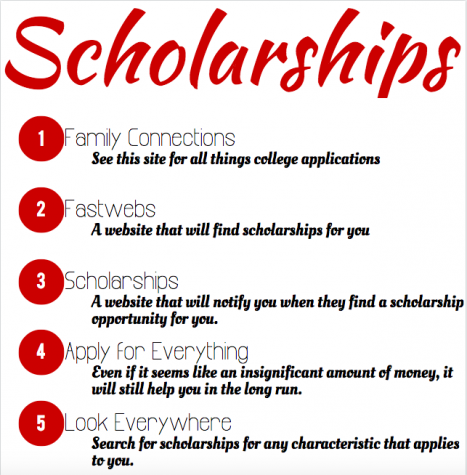 Family Connections: Rely on this site like your life depends on it. Everything that you could ever want to know will be on here: college visits, application info and scholarship lists. It goes without saying that this is the Holy Grail of college applications. I said it anyways, though, because I wanted to make sure that you knew about it.
Fastweb: Fastweb is a website that students can use to find different scholarships that are applicable to them. When you create an account, you answer a couple of questions about your background and interests. Then, the website will provide you with a long list of scholarships that you may qualify for.
Scholarships.com: Scholarships.com is very similar to Fastweb.The premise of the two websites are very similar, but they could provide you with different lists of scholarships, allowing you more opportunities for free money. Whenever they find a new scholarship that they think you may be interested in, Scholarships.com will send you an email.

Apply for everything: Many small scholarships go unclaimed because no one applies for them. Even if a scholarship may seem ineffective, like it may not make a dent in the amount of money that you need to come up with, you should still apply for it. While it might not pay for your tuition, it could pay for a textbook or for your meal plan.

Look everywhere: You can often receive scholarships for things that you did not even know that they had scholarships for. Personally, I found a scholarship that I am eligible for since I am partly Lithuanian. You never know what's out there.
There lies a balance, somewhere, between the amount of money that you pay for school and the name brand of the school that you go to. I, nor does anyone else, know where that line is. Certain schools definitely have a name brand, while others do not. Despite this, I think that you will get a quality education no matter where you go. If you can graduate debt-free from a smaller, less well-known school, even though you were accepted into the school of your dreams on the condition that you will forever be in debt, which would you choose? I think that there are many people who would choose either side.
In some careers, it matters where you went to college. In others, it makes absolutely no difference where you went to school. In addition, if you plan on receiving any sort of degree past your bachelor's, including a Master's, Ph. D., JD, MBA or otherwise, potential employers consider more heavily where the second degree came from. The battle between where the heart and the brain want to go rages on, and us teenagers are left here in the middle.
In the end, I think that deciding between where you want to go and where you should go is a choice that every person must consider. For some, the prestige of their school matters most. For others, the cost is the most significant factor. Neither decision-making process is right or wrong; they are simply different. Cliché but true. I feel that college students everywhere are receiving quality educations, it just depends on what each individual is looking for in an educational experience.
Leave a Comment
About the Contributor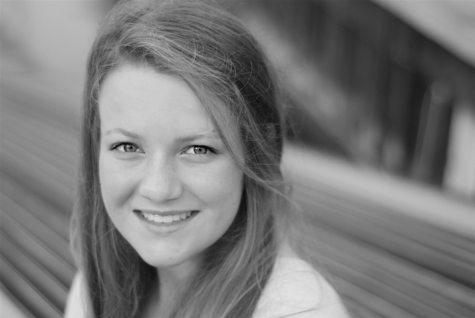 Hannah O'Leary, Editor-in-Chief
Hannah O'Leary a senior who finds herself as the editor-in-chief of Highlander Publications. Hannah loves designing magazine spreads, but finds that she...