Review: Shake Shack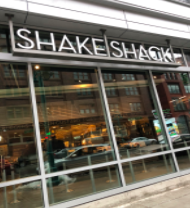 Hang on for a minute...we're trying to find some more stories you might like.
A New York burger restaurant, Shake Shack, opened in Milwaukee's Historic Third Ward on Dec. 6, 2017. After hearing the rave reviews, I decided to test it for myself.
As I approached Shake Shack, I could see the bright lime green burger hanging in the window signaling where the restaurant is located. The second I walked in I could sense the urban atmosphere and room buzzing with every table full. The line was just about out the door full of ecstatic people. The menus were located off to the side of the cashier, with a variety of different burgers, fries, shakes and different types of sandwiches and desserts. I ordered the shack burger, cheesy fries and the salted caramel shake.
The shack burger is just your ordinary classic burger. I'm not big on having a lot on my burger, so I felt that this would be the perfect fit for me. It is a juicy burger that was layered with crisp lettuce, gooey cheese and fresh tomatoes. On the fluffy bun there was a creamy, tang mayo based sauce, "shake sauce," that was spread all over it. In my first bite of the burger it instantly melted in my mouth. I could taste the combination of the crisp and gooey ingredients.
The cheese fries had just the right ratio of cheese to fries. The cheese was the perfect amount, no more no less. The fries were crisp and buttery as well. However, the cheese was a little overbearing, so next time I will just stick to the regular fries.  
The shake was by far my favorite. I ordered the salted caramel shake which was a delicious blend of sweet and salty. You could really taste the caramel so I would only recommend it if you really enjoy caramel drinks. The shake was a little too thick, but I could still not seem to put it down.  
Since the restaurant was booming, it made it very difficult to find seating. Their tables ranged from booths for many to small tables for one. Each table had the burger logo with smaller writing sharing where the tables came from.
Overall, the food was fantastic, and price was just right. If you are looking for a new, trendy restaurant, stop looking.