Cooking with Castroverde: Lemon Tart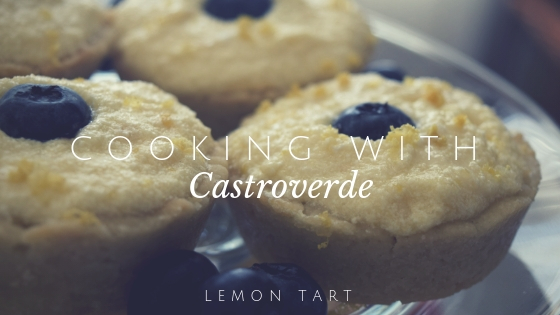 Ingredients
Crust:
1 stick of butter

1 tbsp of oil (I used canola)

3 tbsp of water

1 tbsp of sugar

⅛ tsp of salt (AKA a pinch)

1 ½ cups of flour
Lemon Curd
1 cup of lemon juice

2 eggs

1 yolk

Lemon zest (as much as you want)

1 ½ cups of sugar

½ stick of butter
Creme Fraiche:
1 tsp of buttermilk

1 cup of heavy cream
Things you will need:
Saucepan

A pie tin

Spoon

Mason jars

3 bowls (one has to be allowed to be in the oven)

A hand mixer or a stand mixer

Fork
Steps
Creme Fraiche:
Put the buttermilk and heavy cream in a mason jar and shake it.


Leave the jar in a warm area like in an oven or by a sunny window for 8 – 24 hours.




After the hours are up, put the creamy liquid into a bowl. Grab your electric mixer or your stand mixer and mix the creamy liquid on medium speed for 5 minutes. Add sugar. To know when done, the liquid has turned into a whipped cream. If you gone to far, you would have chunks in a white liquid (you have made sweet butter).
Lemon Curd:
Add your eggs, yolk, sugar and lemon juice into a bowl and whisk for 5 minutes.


Grab your saucepan and melt your butter on medium heat.

After it is all melted, add your lemon mixture on low heat and whisk constantly for 10 minutes. The mixture will to curd. How do you know: the mixture will thicken and turn into a bright yellow.

Depending on the thickness of the mixture, leave it on the heat for thicker, vise-versa.
Crust:
Preheat your oven to 410 degree fahrenheit.

In the oven safe bowl, add the butter, oil, water, sugar, and salt. Place the bowl into the oven for 15 minutes or when the mixture browns on the sides.

After 15 minutes, take out the bowl slowly. It will be very hot and it sometimes spews so be very careful.


Add the flour to the mixture and stir quickly. You will know when everything is combined when a ball is formed and it does not stick on the sides.

Add the ball to a pie pan, preferably a pan that has a removable bottom.

Once it is fully cooled, push the ball to fit the pan. Grab a fork and stab the bottom of the pan. This will help air bubbles escape.


Place the pan in the oven for 15 minutes or once is golden brown.

Once done, let it sit until you are ready at least 10 minutes.
Put the pie together:
Grab you creme fraiche and pour it into your bowl or stand mixer. Mix it on low until it begins to look like whip cream.

Once that happens, add your lemon curd. I used a 1:1 ratio, but the more you add the more sour it gets.

Stir on a very low setting until everything is well incorporated.

Pour the lemon filling into the pie crust and spread it evenly.