Sileno participates in golf sectionals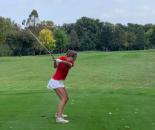 Hang on for a minute...we're trying to find some more stories you might like.
Chloe SIleno, sophomore, qualified for golf sectionals. She shared her experiences of the season with reporter Bella Huycke.
Q: What do you have to score at regionals to make it to sectionals?
A: "At regionals I shot a 91 which put me in the top four individuals to move onto sectionals."
Q: Were you one of the top four at Homestead or in the whole meet?
A: "In the whole meet, so the top four teams all make it to sectionals and then outside of that the top four individuals go to sectionals, so I was part of the individuals.
Q: Was regionals something that your team had to qualify, you had to qualify or did the whole team just go?
A: "The whole team just went."
Q: How long have you been playing golf?
A: "Ever since I was super little maybe 5 or 6."
Q: How many days a week do you practice for Homestead golf?
A: "We have set practices monday through friday and then just expected to go out on the weekends to practice."
Q: Do you practice outside of the Homestead golf season?
A: "Ya all through the summer I'm practicing with my family members and just going out to play around and golf."
Q: Was this you first year on varsity?
A: " I was actually the 6 on varsity last year on varsity so it was not my first year on varsity."
Q: What did that mean to you to be on Varsity your freshman year?
A: "Freshman year it was just all about getting experience and just like getting to know the different courses in the following years."
Q: What family members have helped you get to where you are today?
A: " I'd say definitely my dad because if i'm not doing anything he'll always be like 'oh I just made a tee time let's go play like right now', so that always gets me out onto the course."
Q: What coaches or mentors have helped you get to where you are today?
A: "Mr. Rect is my coach and he really just helps me with whatever i'm struggling with, like if need to adjust my swing a little bit hell help us out."
Q: How have your friends supported you?
A: "My friends are just super encouraging and they will with me good luck and what not."
Q: How have your teammates helped you and encouraged you?
A: "They were just super excited when I knew I was going to sectionals and they all texted me good luck the day of."
Q: How has the school congratulated you?
A: "I was actually athlete of the week a couple weeks ago, which was super cool."