SWIPE HERE: The High Price of Credit Cards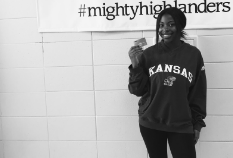 "Mom! Dad! May I please borrow the credit card for the weekend?"
The easiest way to throw money down the drain is to carry a credit card.  What makes it even easier is when the money being spent is on something that you cannot resist but don't really need.  
As an example, the joy of dressing up and looking good comes with a price.  In this case, the price is credit being subtracted from a balance and transacted through a plastic card: a credit card.  
Homestead High School senior, India Wilkerson, is always dressing in her best.  She is creative with her combinations of design outfits along with matching accessories. She also loves to be hip and to follow all of the latest trending fashion styles.
"I am always in my best outfit because I have learned presentation is key. I am a very creative person and the way that I like to show that is through my clothing choices." Wilkerson, said.
Over the summer of 2018, however, India spent a little too much money on clothes.
"I bought a lot of statement tops and bottoms for the summer season.  I personally could not resist because I had some money I earned myself from working in the summer.  I felt that the best way to treat myself was to buy clothes," Wilkerson stated.
Wilkerson's parents were frustrated with how many outfits their daughter added to her wardrobe.  Despite her parents' disappointment, India learned a very valuable lesson about how to manage money and how to spend responsibly.  
"My parents were mad at me because I spent too much money over the summer instead of saving for the future, or at least spreading out my purchases. But, I am glad I went through this experience now as a high schooler, rather than later on as an adult," Wilkerson said.