Futbol and football: The double-sport athlete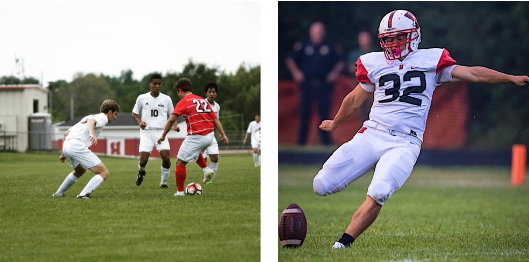 Hang on for a minute...we're trying to find some more stories you might like.
Two sports
Two teams
Two families of players counting on him
Whether in soccer or football, Jordan Gomez, senior, always found a way to be there for his teammates. Juggling two sports, along with school in one season was difficult, but he found a way to manage his time and make an impact on his teams. "If I didn't have a soccer game, I would be at football practice probably three times a week for around an hour," Gomez said.
Gomez started playing soccer when he was six years old, continuing on and off with the sport and playing on the Northshore club team, as well as Homestead's team his freshman year. Gomez decided to follow his heart his sophomore year and play the sport he always had dreamed of, joining Homestead's football team as the kicker. After a nasty injury to his ankle, Gomez decided to back off of football the next year and play soccer again.
During his senior year, Gomez finally put two and two together, "I got a call from Coach [Dave] Keel asking if I would take the opportunity to kick for the football team, and after checking with Coach [Rich] Dorn I decided to take it," Gomez said. He wanted to play both of the sports he loved to finish out his time at Homestead.
Jordan's coaches supported him through the whole season and helped his divide his time effectively. "Jordan performed well for both teams, giving teams an offensive boost," Tony Navarre, assistant soccer coach, said.
Although the time commitment was tough, Gomez's soccer teammates still continued to think of him the same. "He's always been a great player, and playing two sports did not affect his work ethic really, or his dedication to the team," Stefan Grbic, senior, said.
Jordan's football teammates said the same, even though Gomez spent most days at soccer practice, "He did a great job managing both sports and making an impact on both teams," Eric Rodd, senior, said.
In the long run, Jordan's hard work showed on both fields. The Homestead soccer team won their regional game, and the Homestead football team won the D2 State Championship. "It was a perfect ending to my athletic career at Homestead," Gomez said.
Gomez believes that if there's a will there's a way and encourages playing two sports to anyone committed and who enjoys playing. "Sports are a very good outlet to relieve stress and playing them personally helps keep me focused in school," Gomez said.
Gomez hopes to continue his athletic career in college for football. "I am happy that I decided to stretch myself and play both sports my senior year with my best friends, and I am excited to see where football takes me," Gomez said.