Boys soccer moves onto the next round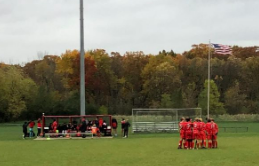 The boys soccer team kicked off their playoff season in the rain on Oct. 22. The game against Riverside ended in a 10-0 victory for Homestead.
Head Coach Tony Navarre explained the team's preparation method. "We have prepared all season as if each game could be our last. Now, that is actually the circumstances we are playing under, so the players are mentally tough and ready for each game. The goal is to go 1-0 every game," Navarre said. 
At half time, Homestead led 7-0, but the boys did not stop there. They finished out the game in the fifty-fifth minute with the tenth and final goal scored by Jack Gruen, freshman. Brady Lutz, Chris Tiako, senior, Colin Satchie, Jack Boegel, sophomore, and Sam Walton, sophomore, also scored during the game.
Brady Lutz, junior, who contributed two goals to the score, shared the team's mindset for the game. "It was a well-fought game, and our team showed true talent. We played as if we were down a goal until the final minute," Lutz said. 
The team has been very successful this season, entering the playoffs with only one loss out of 17 total games. 
Colin Satchie, senior, hopes to continue the team's success and lead his team through the playoffs with confidence. "We prepared for the playoffs with the mentality of playing like it's all gas, no brake. I am going to work my hardest and push my teammates to work their hardest too," Satchie said. 
Jake Haberer, junior, looks forward the next round. "It is going to be a tougher game, but coming off a strong win gives us a lot of confidence," Haberer said. 
The boys will face off against Menomonee Falls on Saturday afternoon. "We are going to train hard in practice and keep the mentality that we have the ability to win every game," Haberer said.