Girls tennis clinches state title, bittersweet victory for seven-senior team
Three matches on Friday and Saturday yielded yet another state win for the girls tennis team.
It was a familiar feeling for the eleven returning players, and traditions marked the celebrations of the 4-3 victory over Muskego Saturday afternoon. However, this particular win came with more nostalgia than those before it, in many ways marking the end of an era for the senior majority on the team.
They have won the state championship in close matches four years in a row, and Ellie Sprinkmann, sophomore, feels that the older players have been instrumental in her tennis experience.
"The seniors have made being a part of this team so special for me. From day one, they have been so welcoming and fun to be with. I know how hard the seniors have worked to achieve this dream of winning four years in a row, and I'm so happy that I was able to be a part of it. I'm looking forward to another great season next year, and I'm hoping to keep the streak going," Sprinkmann said.
After defeating Aushwaubenon six matches to one on Friday evening, the girls played Badger on Saturday in the semifinals. They lost only three matches to Badger, and so with four points were able to move on to the finals. To a crowd of around twenty Homestead students and teachers, the players began their high-stakes matches.
"It was really cool to have people come and watch us in Madison. As a girls sport, that's recognition we don't get very often, and I was happy to have people there for victory number four," Tess Lalonde, senior, said.
The first matches on the court were Lalonde at four singles, Anna Head, sophomore, at three singles, the three doubles team of Ashley Chavin, senior, and Jillian Diamond, sophomore, and the two doubles team of Brown and Sprinkmann. Both Lalonde and the three doubles team won immediately, going 6-1, 6-1 and 6-3, 6-0, respectively. Only a few minutes later, Brown and Sprinkmann won their match 6-2, 6-1 to give Homestead three of the four points needed to win the title.
"That was such a bittersweet match. Not only was it my last time playing with Ellie, it was my last high school match ever, and it was so special to get that point for the team. I also got to go watch the rest of the matches and ultimately watch us win the title, which is always an exciting moment," Brown said.
After those matches finished, Head was still on the court, and Jamie Gebhardt, senior, started at two singles, Natalie Yang, senior, started at one singles, and Kate Wade, junior and Sasha Shapsis, senior, started at one doubles. After two long-fought matches, Gebhardt and the one doubles lost, leaving a much smaller margin for error in the team's victory. Head and Yang entered three sets, and the crowd bounced between courts, waiting for each match to finish. Yang was familiar with her Muskego opponent Elizabeth Sobieski, having beaten her in three sets the week previous at individual state.
"Elizabeth is a talented player, and she has a lot of power, so it was nice knowing what I was going to be up against," Yang said.
Yang came out strong in the third set, winning three games immediately. The volume of the crowd rose and rose after each point as the back-and-forth nature of the first two sets returned.
At five games to 4, Yang lost one match point and then, sending a shot deep into the back of the court, forcing her opponent to hit an off-balance shot, the soft sound of the ball hitting the net deafened the hushed crowd.
A beat of realization, then a cheer of victory as the players rushed down to meet Yang on her court and celebrate together. Parents and fans hugged and went downstairs for the on-court award ceremony, where Homestead was announced as the 2019 WIAA Girls Tennis State Champions, and Coach Jackie Egelhoff presented the trophy to her team.
Pictures followed, including one of all seven seniors together with their trophy. The photo had grown and changed over the four years, but it bore many of the same awed, excited faces it did in the one they took in 2016, just as the team had evolved to meet new challenges and will continue to in the years to come. For now, however, Brown feels this title was a perfect way to end the seniors' careers.
"Every victory we've played here has been hard fought. It has brought us together in ways we've never imagined, and I will always be grateful to this team for giving me these experiences. Sealing our time here with one more win was everything we could've asked for," Brown said. "A very Homestead way to end it all."
About the Contributor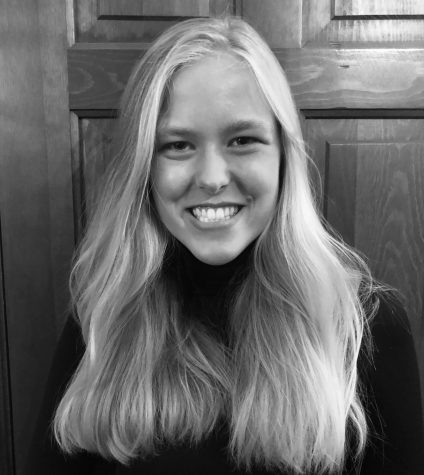 Annie Brown, Editor-in-Chief
Annie Brown is a junior at Homestead High School. She is passionate about education, maternal health, and cancer research, which is why she serves as president...