Girls volleyball wins first home game
On Wednesday, Sept. 16 girls volleyball had their first home game of the season against West Bend East. The girls pulled out a win in their third game with a score of 25-17.
The starting lineup consisted of four juniors, Nora Raasch, Whitney Krueger, Sarah Matthews and Gabby Magee as well as four seniors, Jessice Gee, Mia Caputa, Olivia Van Laanen and Emma Lusis.
The girls won all three sets for a clean sweep against the Suns. They won 25-14 in the first set to start off strong. "I think something all of us girls are working to do our best this year is playing together as a team. Without this constant encouragement from each other we wouldn't be able to play our hardest and succeed," Van Laanen said.
After the first winning set the team went on to win the next two sets with scores of 26-24 and 25-17. This was the second win of the season for the team after winning their first game in Grafton the night before, leaving them with a 2-0 record to start the season.
For the seniors it was a bittersweet moment to have their last first home game; however, they relished the win. "I feel truly honored to be a senior on this varsity team and play with my teammates. It's sad that it was the last first home game, but it was a thrilling match," Gee said.
Due to COVID-19 only two family members with passes are allowed to watch the games and are required to wear masks. The Wisconsin Interscholastic Athletic Association (WIAA) also requires all indoor athletics athletes to wear masks during games and practices. "I'm extremely grateful to even have the opportunity to be playing right now because of the pandemic. We work so hard in practice and I'm really excited to see what's in store for the rest of the season," Raasch said.
Leave a Comment
About the Contributor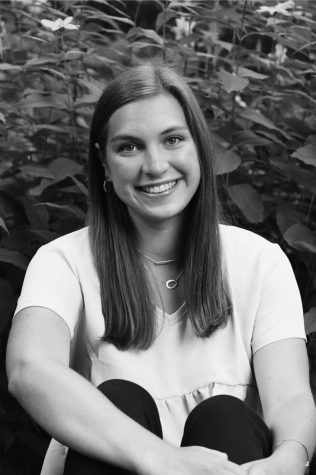 Hannah Kennedy, Editor in Chief
Hannah Kennedy is a senior at Homestead and serves as editor in chief of Highlander Publications. She is going to study journalism in college at the University...