Varsity football meets its match at first home game of the season
The boys of Friday sized up against Hartford at their first home game on Oct. 2 but came up six points short under new head coaches, Matt Wolf and Drake Zortman.
Facing the undefeated Hartford Orioles (2-0), there were several bright spots in the Highlanders 23-17 defeat. The Orioles and the Highlanders were nearly even on total offensive yards, 268 for the Highlanders and 265 for the Orioles. Homestead's rushing attack was led by junior running back Joe Ollman with 124 yards and a touchdown.
"It was a tough loss for all of us to endure, but we're going to use it (to improve). We will all be fired up for this coming week. Our energy will be at its highest, and we will bounce back. I love all of my teammates and couldn't be more grateful to be out there with them," Ollman said.
On the defensive side of the ball, junior safety Colin McGinley led the team with seven solo tackles and an interception. Junior cornerback Jack Crowley contributed an interception that he returned for 47 yards while Jackson Szypszak, senior middle linebacker, stood out defensively with four solo and five assisted tackles.
"I think that we played a really good game even though we came up short. We left it all out there and now we just have to focus on getting better," Szypszak said.
The Highlanders started slowly and trailed 10-3 at half.
"Our offense had a rough start to the game but we have a really smart team. After a few adjustments at halftime, we came out in the second half fired up," Ryan Quinn, junior quarterback, said. Quinn passed for 124 yards, rushed for 36 and was sacked twice. Despite the loss, Quinn was optimistic about the future of the team, "We have a really good team this year and I'm excited to see how we play in the remainder of the season."
Near the end of the third quarter, Quinn dropped back to the 21 yard line and threw a pass which was completed to Korey Fricke. Fricke ran from the 29 yard line all the way to the end zone – scoring a 76 yard touchdown for the Highlanders. With five minutes left in the game, Quinn was quick to act and handed the ball to Ollman who then carried the ball for a 2 yard touchdown run.
Although the Highlanders came up short, the boys never lost their spark. "Our team fought until the very end, this is just the beginning," Dylan Brown, senior safety, said.
"I was proud of the way the boys fought to come back from the deficit we found ourselves in during the 2nd half. Give credit to a very good Hartford team and coaching staff, they did an excellent job. We are excited to grow and learn from the things that we can improve upon and will be a better team because of this game moving forward," defensive back coach Micah Adams said.
The Highlanders will face the Bulldogs (1-1 overall) next week at Cedarburg.
Leave a Comment
About the Contributor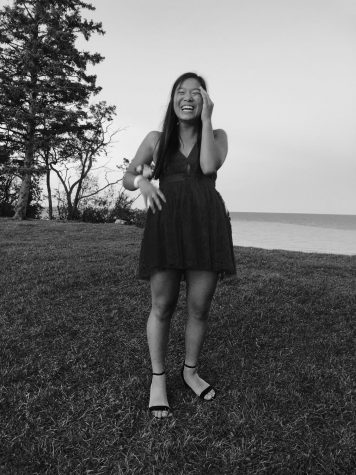 Nora Raasch, Editor in training
Nora Raasch is a junior at Homestead High School. She has always had a passion for writing and graphic design and is looking to pursue a career in Psychology....