Girls varsity tennis finds success at state
The girls varsity tennis team sent four members to compete at the Wisconsin Interscholastic Athletic Association (WIAA) Individual State Tournament held Oct. 15-17 at the Lake Geneva Tennis Club. Making it to the state tournament was icing on the cake for team members, who recognized how grateful they were to have a season at all.
"The tennis season was the best surprise of the year," Tess Diamond, junior, said. "Nobody had any idea that we'd be able to play as long as we did with a global pandemic. Being with the team and playing tennis was such a perfect outlet during these difficult times."
At 28-0, doubles partners, Kate Wade, senior, and Ellie Sprinkmann, junior, earned the No. 1 seed heading into the state tournament. Starting off strong, the two won their first match Oct. 15 against Whitefish Bay (6-2, 6-2). Wade and Sprinkmann continued their winning streak the next day — defeating Tomah (6-0, 6-0), but later on lost to the eventual doubles champions, Wilmot Union (6-7(5), 7-5, 3-6). Despite the previous day's loss, Wade and Sprinkmann fought their way to fifth place — taking down Muskego (6-4, 6-3) and Oconomowoc (6-2, 6-4). Overall, the pair finished with a season record of 32-1.
"It was definitely an interesting season, with a completely new team and the unknown if our next match was even going to happen due to COVID-19. In the end, it turned out to be one of the best seasons yet," Sprinkmann said. "It was so much fun getting to know all the new girls and was such a great experience finally getting to partner with Kate Wade. We have been playing tennis together ever since we were little and it was awesome to end the season with wins at individual state," Sprinkmann said.
"I'm so thankful that I got to have my senior season and I'm so proud of both my partner and our entire team," Wade said. "Even though there were some big differences this year, I still had so much fun."
Homestead also sent another doubles pair, Tess and Jill Diamond, juniors, to the state tournament. The Diamonds lost their first match Friday afternoon against Whitefish Bay, but still were grateful to have made it to state, ending their season with a 15-11 record.
"I am grateful that we have been able to stay safe and that we have had a season this year, especially for the seniors on the team," Jill Diamond said. "State was not supposed to happen, but ended up being played outside for 80% of the tournament. By pushing through all of the obstacles our team faced this year, we were able to overcome challenges. I am happy to be a part of this team and I cannot wait until next year."
The Highlanders took third in the North Shore conference and posted a 14-5 season record. In addition to Wade, Sprinkmann and the Diamonds, the team included: seniors Katelyn Braunstein and Megan Schuyler; juniors Chloe Bento-Monteiro, Chloe Diamond, Anna Head, Calista Sims, and Anna Strunets; and sophomore Anastasia Raykova.
"After an incredible four-year streak of state championships, the Homestead girls tennis team graduated seven of 10 seniors in 2020. With the loss of those seniors, the team had to rise to the occasion with many new faces — all of whom contributed to another successful season. The returning varsity girls did an excellent job of making their new teammates welcome and comfortable throughout the season. I truly enjoyed watching them bond and become friends," assistant varsity coach Peter Sprinkmann said.
Leave a Comment
About the Contributor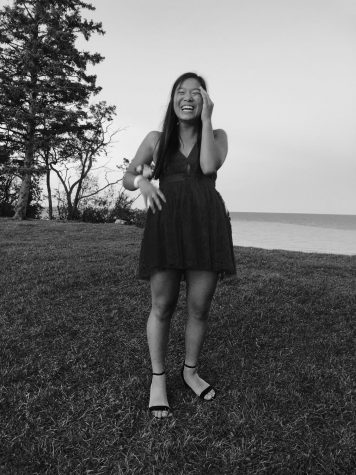 Nora Raasch, Editor in training
Nora Raasch is a junior at Homestead High School. She has always had a passion for writing and graphic design and is looking to pursue a career in Psychology....