Highlanders hold onto positivity heading into playoffs
The varsity football team switched up its lineup for the last regular season home game Nov. 6 as a result of several absences caused by COVID-19, bringing up several underclassmen including sophomore quarterback Salvatore Balistrieri, who started in the Blue Dukes vs. Highlanders showdown.
"Our team should be very proud. With everything that we've gone through in the last couple weeks, we have been put in a tough position. I'm grateful that I got to play, and although we all need to work on a few things, we should be very proud of our commitment and resilience," Balistrieri said.
Facing an undefeated Whitefish Bay team (4-0), the Highlanders were down 14-0 at halftime, eventually losing 28-0.
For the 22 seniors on the team, the game was a bittersweet end to an up and down season. The team finished with a regular season record of 3-4. Despite Friday's loss, seniors Dylan Brown and University of Wisconsin-Madison commit Ayo Adebogun remained positive and expressed gratefulness.
"It's been a blessing to be able to walk out on the field with my brothers and to put on No. 19 on Friday nights. I love my team to death and wouldn't trade it for anything else," Brown said.
"It's unfortunate that it was our last regular season home game, but I'm just happy that everyone laid everything out on the field — win or lose, we played hard," Adebogun said.
Juniors Joe Ollman and Alexander Perelshtein also have shown leadership qualities on and off the field, demonstrating positive attitudes in loss, remaining humble when successful and always keeping a "team first" mentality.
"It's crazy to realize that we're down to just a couple weeks left. It's gone by so fast and I've enjoyed every bit of it. The loss was tough, we played a very good team, but we need to move on and learn from it going into the first week of playoffs," Ollman said.
"It is always tough losing on your turf, at your house. But if there is something I have learned as a competitive athlete — you never lose, you learn. We all learned a lot this year about ourselves as people and as teammates," Perelshtein said. "We also had a lot of starters out the last couple of games, resulting in guys playing in positions they normally don't play in, JV players starting in a varsity football game, but despite it all – we have come together as one and have had each other's backs. We are a family. The way I see it, we didn't lose our last home game — we learned and we grew as a team," he said.
The Highlanders are now turning their attention to Friday's regional playoff game. No. 2 seed Homestead will host No. 3 Kettle Moraine. No. 1 seed Hamilton has a bye due to an unforeseen forfeit by No. 4 seed Waukesha North.
Leave a Comment
About the Contributor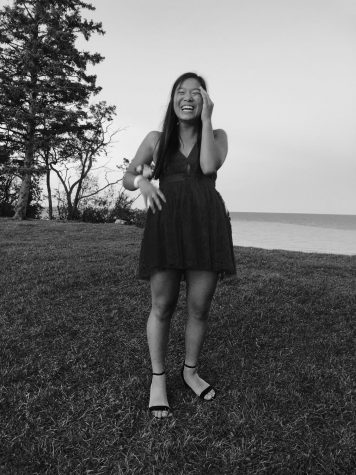 Nora Raasch, Editor in training
Nora Raasch is a junior at Homestead High School. She has always had a passion for writing and graphic design and is looking to pursue a career in Psychology....