Boys lacrosse wins their first game of the season
Boys lacrosse took on Franklin High School at home on Tues. April 27 and pulled out their first win of the season with a score of 14-2 against the Sabers.
After starting out their season with a few losses, the Highlanders were determined to get their season back on track and came out strong. Within the first two minutes, Mac Kobs, junior midfielder, lobbed in Homestead's first goal of the night. Kob's goal was quickly followed by a turnover forced by Nate Pound, sophomore attack, who returned the ball for another Homestead goal.
This is Pound's first season with the Highlanders after losing his freshman year to COVID-19. "This is my first year of high school lacrosse due to Covid, so finally getting my first goal felt great," Pound said.
Homestead kept their momentum going with another goal from Jack LaValle, senior attack, who was assisted by Kobs. With only nine minutes into the quarter, the boys were up by three and showed no signs of slowing. "The team really gathered around Nate Pound and his effort around the cage," Kobs said, "It felt good to get a few shots in and also assist some of my teammates."
Kobs scored his second goal of the night to increase Homestead's lead by four and Henry Robbins, senior, pushed through defenders to add one more point for the home team.
Not only were the Highlanders keeping strong on offense, but their defense also held the Sabers to one goal in the first half and both goalies, Tommy Cassel, senior, and Drew Baranko, junior worked to deflect shots. "We have been working on defense a lot in practice and I think tonight was a perfect example of everything coming together," Jeb Clark, senior defender, said.
As the first quarter came to a close Homestead was up 5-1 and returned to kick off the second quarter with the same momentum. Pound scored his second goal of the game with an assist from Charlie Pfeifer, senior midfielder. Homestead saw two more goals before halftime from Brady Lutz, senior midfielder, and JJ Perez, junior attack.
Coming out of the locker room for the second half, the third quarter proved to be a challenge for both team's offenses. Maintaining aggressive defenses, both the Sabers and Highlanders forced turnovers but struggled to score off of them.
With little time left in the third quarter, Lavalle scored his second goal and Kobs took a deep shot to score his third, and Homestead's tenth, goal of the night "The best part about tonight was seeing so many different players score for our team," Lavalle said.
Lavalle started off the fourth quarter with another goal assisted by Pound. Homestead went on to score three more goals by the end of the game and only allowed for one Franklin goal in the fourth quarter.
The boys were excited to win their first game of the season and find importance in maintaining the momentum they felt this game. "I thought our team played amazing. We really brought the tempo after losing a couple of games, and everything flowed great tonight," Pound said.
Leave a Comment
About the Contributor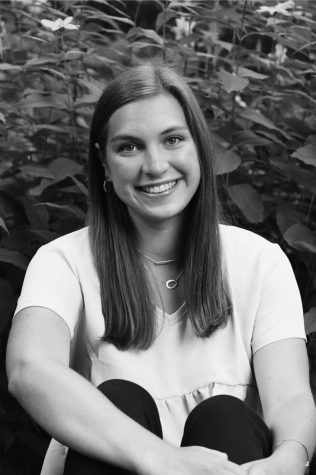 Hannah Kennedy, Editor in Chief
Hannah Kennedy is a senior at Homestead and serves as editor in chief of Highlander Publications. She is going to study journalism in college at the University...