The aroma of success
Jake Yasonik leaves his mark on scientific research
Innovation (in·​no·​va·​tion): the introduction of something new. The invaluable ability to bring original ideas into a field of study is exactly what alumnus Jake Yasonik, Class of '20, embodied while studying at Homestead and in his ventures thereafter.
The origins of Yasonik's captivation with computer science and biology stemmed from a combination of defining life moments, including his brother paving the way in software engineering and later a science fair he participated in during his sophomore year.
Yasonik said, "My project was garbage, but a judge came up to me afterwards and said to do something with biology for next year. I googled 'machine learning in biology' and the first result was something to do with pharmaceuticals."
This discovery launched the start of his journey in creating a project that would later be known as Multiobjective De Novo Drug Design with Recurrent Neural Networks and Nondominated Sorting. His exploration within pharmaceuticals involved utilizing computer-aided drug design in order to investigate ways in which technology can aid in shortening drug trial lengths as opposed to lengthy drug tests on human beings.
"During summer break, I tried to spend a few hours each day reading papers and taking notes," Yasonik said. "I was definitely less consistent than I'm making it sound, but that was my goal. After spending so much time reading, I was excited to start building the model, and my obsessive personality started to show."
Despite devoting a large portion of his time to his research in the sciences, Yasonik's career path was an unexpected outcome from his childhood interests. "It's funny I work in AI and biology, because I don't really like AI, and I don't really like biology. I love the intersection of the two fields though. Growing up, I had a lot of health problems, so the life sciences were always in the back of my mind," Yasonik said.
In pursuit of furthering his progress, Yasonik spent tedious days and sleepless nights buried in heavy research. Yasonik said, "Some weeks, I'd spend all my free time on the project; other weeks, I wouldn't touch it. As the science fair drew closer, I remember I was waking up every few hours to make sure my model was still training. I can't imagine a more exciting feeling than getting results from a months-long research project."
After showcasing the results of his scientific endeavors, Yasonik earned an astounding $50,000 scholarship from the Davidson Institute's Fellows Scholarship Program towards his research. Yasonik said, "Obviously, I was thrilled to get an award like this. I think I cried. This kind of publicity and money was not even on my bingo card when I started the project. I'll be honest though, I felt a lot of imposter syndrome afterwards. I'm a random kid googling my way through a high school research project: what do I know?"
The exhilaration of winning such a prestigious award was later accompanied by an unexpected message. "I was walking around the field house with a friend during lunch, and I got this LinkedIn message from someone I'd never met before. This was the VP of Computational Sciences at Pfizer; he'd read my recently published paper and liked it," Yasonik said.
Amidst the excitement and uncertainty of his senior year, Yasonik landed an internship with Pfizer assisting the company with computer aid and drug design.
"This was just a few weeks before COVID started, and I didn't hear from him for a while after that," Yasonik said. "He got back in touch a few months later, and I ended up interning there part-time during my first semester at MIT. I was scared out of my mind; it was me on a team where everyone else had a PhD. I learned how much I didn't know, and I learned where to go from there. I bet there's only a few things that really change your life; this definitely changed mine."
After graduating from Homestead during the height of the Covid-19 Pandemic, Yasonik began studying Computer Science and Biology at MIT while fulfilling his internship; however, another opportunity quickly materialized in the form of a promising startup that aimed to employ AI technology towards manufacturing digital olfaction through machine learning. "When the opportunity came to join the startup full-time, I jumped at the chance," Yasonik said.
For the college student, jumping head first into Osmo was a no-brainer. "Osmo spun-out of my team at Google Brain, so I'd already spent a few months working with these people on related projects. I felt I was learning more from work than I was from school, and I loved that the projects had such real-world impacts ahead," Yasonik said.
The flexible nature of Yasonik's commitment to his educational institution facilitated the decision to temporarily step away from his studies.
Yasonik said, "This wasn't as risky of a decision for me because MIT lets you leave and come back whenever you want. That is, you can't actually 'drop-out' of MIT: you take 'indefinite leave-of-absence.' I'm also lucky enough to come from a stable background that makes something like this even possible in the first place. Put this all together, and joining Osmo was the easy choice."
The gratification of taking on the project was accompanied by complex challenges that made the experience bewildering. "I love my job, but taking leave from school has definitely changed a lot of things in my personal life. I'm in this weird no-man's land, where I try to maintain the social life of a college student while working a full-time job. I'll go to a frat party one day and fill out 401K paperwork the next. I don't know if those things should happen within 24 hours of each other," Yasonik said.
Taking one day at a time as both the learner and the innovator, Yasonik plans to continue yielding fresh outcomes and to share his findings with the world, altering the state of modern medicine and technology as humans currently know it.
"I'm really excited to put something useful out into the world. In research, the goal is to output new knowledge. I think the difference now, working at a startup, is that this research has to be immediately practical: this research has to be useful. My goal is to make something people want," Yasonik said.
Leave a Comment
About the Contributor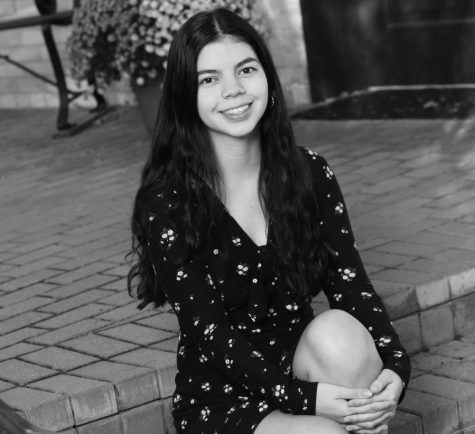 Abigail Maxey, Co-Editor-in-Chief
Abigail has been in publications for two years and is currently a senior. In her free time, she enjoys creative writing, playing guitar, and spending time...