Brewing up America's pastime: Managerial change inculcates renewed vigor and inspiration
The smell of the freshly made hot dogs, taste of David sunflower seeds and sights of the players warming up fill the aroma that is Miller Park during the summer as our beloved Milwaukee Brewers play an old-fashioned game dating back to 1845. But it's more than just a game: it's a national pastime, one that has become a staple of American culture. Since I was handed a baseball bookcase when I was eight days old, I have become infatuated with the sport, and as I have aged it has become the hallmark of my interest. With this backdrop, I decided to take to The Highlander Online to showcase my thoughts about the local bunch of guys living out thousands of children's dreams: the Milwaukee Brewers.
---
As a baseball player growing up myself, I would watch the Brewers starting lineup and try to emulate their swings, seeing if I could model my game after the professionals who were the all-stars of my mind. Although I still look at these players with a very specific mindset and attention to detail, the childhood wonder has disappeared, as I no longer am envisioning translating their approaches into a Tuesday night TMYBA game at Rotary Park.
When either watching on TV, or even in person at Miller Park, some of my favorite people to emulate were Ryan Braun, Corey Hart, and JJ Hardy, all of whom had clean, sharp swings that I could see being implemented by America's youth. As I would watch the lineup flow through, I believed each player's swing was unique, but only tried to implement a certain few.
In the heat of my watching prime, my dad turned to me and said, "I don't care who you look at or what your trying to do, as long as you never, and I mean never, swing like Craig Counsell."
Of course, this led me to try and pursue Counsell's swing, in which he places the bat a solid two feet above his head and tries to lower it in rocket-speed to make contact with the baseball. In his six-year tenure as a Brewers infielder, Counsell only hit 13 home runs, a paltry statistic for a professional ballplayer. Within a few days, I realized that my dad was correct; as Counsell was an average infielder but did not present himself on the field in a way that would be relatable to Milwaukee youth.
Fast forward to last Sunday, when after winning two straight games and subsequently their first season series, Ron Roenicke walks into general manager Doug Melvin's office to have a small chat. At the forefront of the conversation was the then record of 7-18, a second-worst ERA total of 4.42, and the pitching staff's giving up of 33 homers. Additionally, Melvin brought the evil grandfather of last year's epic collapse onto the table, in essence roasting Roenicke's failures as the Brewers manager to garner a winning culture in the Cream City.
When Roenicke walked out of Melvin's office last Sunday, he no longer had a job. Instead of pursuing an outside talent, Melvin had,within hours, removed his assistant, Counsell, and placed him back into the dugout to take over the burning mess that is the current on-field performance. Moreover, Melvin inked Counsell to a three-year deal, ensuring that the future of the franchise is a four-years out of retirement shortstop who has never coached, much less managed, a game in his life.
A Whitefish Bay High School graduate and current Bay resident, Counsell embodies the Milwaukee image: friendly, relaxed, and smart. After years of playing for the Brewers, he has fomented a rapport with the fanbase that can be so loyal yet critical at the same time. Furthermore, his experiences as the Assistant to the General Manager have equipped Counsell with the tools necessary to be a part of the team from the backdoor perspective.
Melvin hopes that the move will be "lightning in a bottle," and carry the team the way that Jack McKeon did when he took over the 2003 Florida Marlins in early May and led them to a World Series championship. The fact that Counsell has played with many of the current Brewers allows for an interesting relationship, as they remember very well the struggles of Ken Macha's managerial tenure and the need for a players-first manager like Roenicke or Counsell. With this synergy, Melvin is hoping that on-field success can be stirred up.
So far, he is fairly close to accurate. A 2-2 split against one of the better teams in the league in the Los Angeles Dodgers showed that the team has the potential for success if they play as one. While the Monday and Wednesday wins were very different, they proved the ability for this team to rely on each other to win a ballgame, which was a skill that Roenicke could not muster up.
On Monday, it looked as if Counsell's presence would simply initially add a loss to the column, but a three-run rally in the bottom of the eighth dictated otherwise. Hector Gomez, Gerardo Parra, Carlos Gomez, and Ryan Braun all had RBI's as the Brewers worked to deny Clayton Kershaw, Dodgers ace, his 100th career win.
On Tuesday, the Brewers found out what they lost in 2012 when Zack Grienke left, as he only allowed two hits while striking out seven in seven and two-thirds innings pitched. Justin Turner, Adrian González, and Jimmy Rollins homered in the effort as the Dodgers took an easy 8-2 win.
But the Brewers, unlike prior weeks, fought to try and get a series win. Wednesday's attempt proved successful, as five runs in the first inning pushed the team to a positive start. Coupled with eight strong innings from Wily Peralta, the team walked out with a 6-3 win.
With this momentum, the team seemed destined to achieve a strong series victory on Thursday, but instead had to settle for a series tie. Yasmani Grandal's eight RBI and two home runs powered Los Angeles to a 14-4 statement win in Milwaukee.
For the Brewers, however, this series was the start of change and a new era. Counsell's arrival energized the fanbase and showed that there might be hope for this unfortunate start to 2015. With a sharp mind and some patience, the Brewers' skipper might truly be up to something, and hopefully that something breeds success.
Leave a Comment
About the Contributor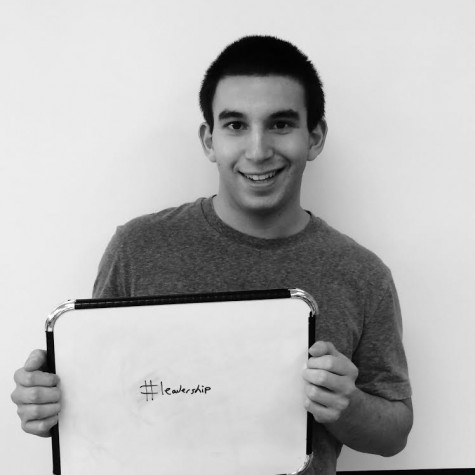 Aaron Glazer, Editor-in-Chief
Aaron Glazer may be the man whose name finds itself called the most in the Highlander Publications class, but he is also the person you probably know the...