Brewing up America's pastime: Perpetual pain continues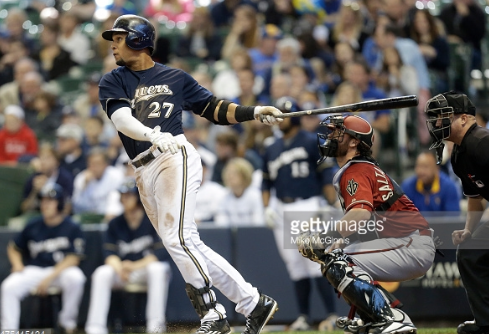 The smell of the freshly made hot dogs, taste of David sunflower seeds and sights of the players warming up fill the aroma that is Miller Park during the summer as our beloved Milwaukee Brewers play an old-fashioned game dating back to 1845. But it's more than just a game: it's a national pastime, one that has become a staple of American culture. Since I was handed a baseball bookcase when I was eight days old, I have become infatuated with the sport, and as I have aged it has become the hallmark of my interest. With this backdrop, I decided to take to The Highlander Online to showcase my thoughts about the local bunch of guys living out thousands of children's dreams: the Milwaukee Brewers.
---
Roughly three weeks ago, I had the chance to go to Miller Park with a friend and see a Brewers-Cubs game. Like many other Brewers-Cubs tilts, the stadium was mostly filled with red, white, and blue, and the usual irritating comments that find their way to brush under the skin of everyone residing north of Kenosha.
I walked in, the fresh smells of fat-filled pretzels and AJ Bombers started making my tongue salivate. However, the key point is this: I attended the game with a friend from Chicago, and while he could boast about the production of Jorge Soler, Anthony Rizzo, Kris Bryant, and Addison Russell, I had to remain speechless.
The numbers do not lie: the Brewers are ranked dead last in hitting with a .227 batting average and .283 on base percentage, are second-to-last in pitching with a 4.67 ERA, and are third-to-last in fielding with a .977 fielding percentage. I can try to highlight a success in these areas, but in the process of digging for gold I sifted through a pile of pure mud. As a more extended note, this team resembles the pile of pure mud : dirty, uneventful, annoying, and thick.
A thick web of losses puts this team into their 17-34 record that is a disgrace to the rest of the league. Moreover, recent injuries to Khris Davis and Willy Peralta, in addition to the already injured Jonathan Lucroy, affirm these notions that both offense and pitching are not improving anytime soon.
Kyle Lohse and Matt Garza, the two anchors of the rotation, have been useless. David Goforth, Peralta's replacement, did not win a game in AAA Colorado Springs  this year before being called up. After repeated trades from 2008-2013 in attempt to compete got rid of the farm system and then a subsequent switch in minor league affiliates at the AAA level from Nashville to Colorado Springs, there is no sense of future in the works.
The Brewers should take lessons from their cross-town counterpart, the Milwaukee Bucks, and embrace what the future can offer instead of having a marked eye on the present. Utilizing this mindset, not only have the Bucks prepared themselves for a primed future; but also they significantly exceeded all expectations for this past season. If the Brewers found some connection to this approach, a similar result may exist.
Another key issue for the Brewers is a general inconsistency exists in terms of margin of outcome. As an example, let's analyze the Brewers-Braves series this past Memorial Day weekend and the Brewers-Mets series the weekend before. In these series, back-to-back games were filled with Brewers victories 7-0 over New York and 11-0 over Atlanta, and Mets and Braves victories of 14-1 and 10-1, respectively.
Here, clear ramifications of the Brewers' season exist. The rare occurrences that they can hit the baseball, it does not matter because they are catching opponents on the one night that they cannot. This inability to find some sort of solace and continual contact to a baseball assures both myself and other fans that they will remain on this persistent path towards the number 1 pick.
When the season first started, I remained optimistic that the Brewers were simply doing a reverse effect of last season: they would start off poorly, and slowly pick up as the season progressed, finishing off with a hot streak for the ages. Two months in, the chances of that happening are equivalent to the chances of Mitchell airport seeing a thriving, hub airline: a memory of the past but unforeseeable.
With the calendar hitting summer and July 31st not too far away in the mind of Doug Melvin, the process of scouting contending teams' farm systems should begin now. Trading away some key but unneeded talents like Jean Segura or Aramis Ramirez could find some cog to the farm system that could lead this team to a promising tomorrow.
Playoff contenders are always a good hit for these players, but here's a thought: trade Segura to Seattle. With Robinson Cano at second base and Dustin Ackley in the outfield, not to mention King Felix atop the hill, the Emerald City should be doing better than they are, and Segura would add some consistency that current shortstop Brad Miller's .194 average lacks. Shortstop prospect Ketel Marte or left-handed pitching prospect Ryan Yarbrough have made gains in Seattle's system and would add significant help to the Brewers' system, and coupled with former Brewers executive Jack Zduriencik now being the Mariners' general manager, a phone call from Melvin would be of ease.
For now, however, the Brewers must find ways to escape their incompetence as we enter summer. With K-12 students being let out soon, fans will rush to Miller Park, but the ballpark must continue to entertain beyond a kids' area in the first-base line right field corner and unique vending options. All the pieces currently administering the team can only do so much: at the end this comes down to the players not putting it all together yet, and until they do, Wisconsinites are in for a long summer.