Moana: A must-see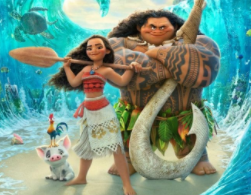 Hang on for a minute...we're trying to find some more stories you might like.
Moana is by far when of the most breathtaking Disney movies to ever be created. This movie is an absolute breakthrough for Disney. Moana represents the perfect female figure of empowerment and bravery that fans everywhere have been missing. In this film the men were represented as emotional and caring, something that more little boys need to view as the norm.
There was no love plot with an extremely chiseled man, but instead a self motivating journey where a strong young woman finds herself. She defies all the odds against her to do what she feels is truly right for her. Moana had a dream to save her island and she darn well did it!
The upbeat island tunes had the audience sucked into a wholly immersive experience. Auli'i Cravalho (Moana) and Dwayne Johnson (Maui) deliver outstanding performances both through acting and singing. Who knew that Dwayne Johnson could sing?
And no, Moana is not a Disney Princess but the next Chief of Montunu, and she plans to lead with a sense of adventure and freedom. This is exactly the role model that young women need today. Moana, congratulations, you have made a mark on history.