Girls cross country headed to state
The girls cross country team qualified for the state meet for the second year in a row on Sat. Oct. 24 in Slinger. The varsity squad consisted of four seniors, Anna Nguyen, Anna Timme, Leane Willemse, and Abbie Ravanelli, one junior, Emily Grant, one sophomore, Savannah Fraley, and one freshman, Caitlin O'Brien.
To qualify for the sectional meet in Slinger the team first had to race in a sub-sectional meet. The sub-sectional meet was new this year and was put in place to allow for fewer teams overall at the state race. After qualifying at the sub-sectional meet the girls headed to Slinger for their sectional meet to try and qualify for the Division 1 state meet at Arrowhead on Oct. 31.
The girls ran a very strong race on a completely new course. "Sectionals was the coldest race we had so far and it was on a course we had never raced on. We had a race the previous Tuesday so it was hard to bounce back from that and race again on Saturday due to the short recovery time. That being said, we all ran smart and it was the best race for our team all season," Timme said. Even with the challenges, the team performed exceptionally well, winning the meet by 10 points.
Willemse, who recently committed to the University of Wisconsin-Madison, took first place overall. "Individually my season has been going really good. I was able to beat my personal record this season as well as break the school record. I am very fortunate that I've been healthy, so I have been performing extremely well, so far being undefeated this season. At sectionals, as a team, we went into the meet very focused and keeping the goal of wanting to qualify for state in mind. Everyone knew what they had to do in the race to make it happen and everyone achieved what they were supposed to," Willemse said.
Fraley placed fourth and Nguyen placed fifth overall with O'Brien not far behind in ninth with a personal record. Nguyen found the course to be a tough challenge. "The race was really tiring for me personally. It was a lot more tiring than the sub-sectionals race the week before. Even though it was tiring, I was still able to run a pretty good time, and the team did really well," Nguyen said.
Timme placed 20th, Ravanelli 22nd and Grant 27th.
As for COVID-19 protocols, The Wisconsin Interscholastic Athletic Association (WIAA) split Division 1, 2, and 3 state meets at different locations to accommodate safety restrictions. Masks are required at all times up until 30 seconds before the race to when you finish. "With COVID-19 we were lucky to have a full season. Even though the races were limited with the number of people, we made it work," Grant said.
The seniors on the team were grateful to run their last season amidst the chaos of the global pandemic. "Being a senior on the team this year is definitely different than past years. I can't lead the whole team like the seniors used to do and we can't do a lot of the fun things that seniors in previous years did because of COVID-19. Even though the seniors this year can't do those things, it still is fun being the oldest and we have the responsibility of leading by example. I'm glad we were able to have a season for my senior year," Nguyen said.
Willemse felt the same, especially after not having her junior track season. "I was scared that I wouldn't have a senior cross country season either. But I am very thankful that we have been able to have a season. Although the meets are different than past years, I am just thankful for having the opportunity to have a senior season and for going to state one last time," she said.
As they prepare for their last meet of the season the girls are continuing to work hard. "I am so proud of everyone on the team and I am so happy that I get to go to state with them for my senior year. We are going to work hard until the very end," Timme said.
Leave a Comment
About the Contributor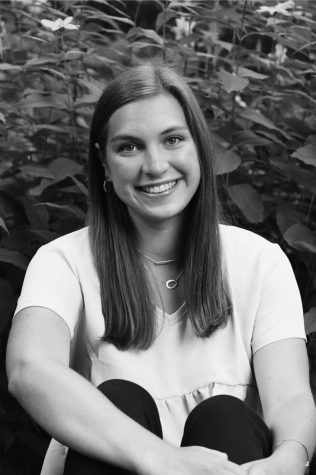 Hannah Kennedy, Editor in Chief
Hannah Kennedy is a senior at Homestead and serves as editor in chief of Highlander Publications. She is going to study journalism in college at the University...