'Team Together' through it all
In a year where change is inevitable, something must be constant – for the boys varsity basketball team, consistency is found in being a team through it all. Despite Tuesday night's loss, the boys played together throughout the game – living up to the saying on the back of their warmups, "Team Together."
"We can't win if we're not on the same page and collectively giving our all as a team. We need each other and we have to count on each other," Solomon Garrison, sophomore point guard, said.
"'Team together' means that we are one. We win together. We lose together. We count on each other and want the best for our teammates," Evan Endres, junior guard, said.
The Highlanders (1-3) matched up against the Whitefish Bay Blue Dukes (1-1) on Dec. 15. At halftime the boys were down 29-9, but put up a good fight along with some good shots in the second half, coming up short 60-39.
Starting freshman shooting guard Tim Franks found several ways to score. In the paint or from the three-point line, he led the team in scoring with 12 points. Although the Highlanders struggled on offense, Endres and Adam Riese, junior, contributed with 7 and 6 points respectively.
Senior forward Keelen Allen rounded out the starting lineup alongside Endres, Franks, Garrison and Riese. This was Garrison's first year on varsity and he is making his presence known.
"I feel that I'm a good fit in the starting lineup at the point guard spot. Leaders lift up the game and bring lots of energy, and I feel that I do that well," Garrison said. As the leader of the offense, not only does Garrison have to see what is open on the court and call what plays to make, but he has to take accountability for the offense entirely and observe where the defense needs to improve.
"We need to be better on both ends of the floor. We struggled offensively the first half, but did a pretty good job on defense, whereas in the second half, we did well on offense but not so much on the defensive end. We are a young team so we will grow eventually, we just have to keep working on the little things," Garrison said.
Allen agreed with Garrison's assessment. "I feel like we did great with taking great shots and looking for the best shot in the possession. One area where we can improve in is just slowing down on the offensive end and letting the game come to us. It's not hard to score it but we just have to slow down a bit," he said.
The Highlanders (1-4) will face their next conference matchup Friday at Hartford (0-3).
About the Contributor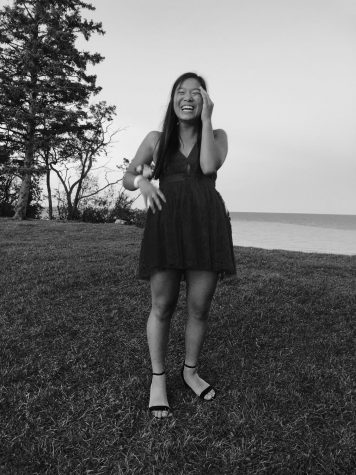 Nora Raasch, Editor in training
Nora Raasch is a junior at Homestead High School. She has always had a passion for writing and graphic design and is looking to pursue a career in Psychology....