The Great Resignation: Pandemic leaves mark on education
The reach of COVID-19 has contaminated many aspects of everyday life. Even as the number of cases plateaus and health restrictions slowly become a thing of the past, the virus' damage can still be seen in the stress present in the workplace—especially for teachers.
According to a poll of educators done by the National Education Association (NEA) in January 2022, "86% say they have seen more educators leaving the profession or retiring early since the start of the pandemic."
This surge is a reflection of a variety of struggles teachers have faced over the years including insufficient pay. A RAND survey of teachers who left their jobs during the pandemic found that 64% said what they were making was not enough to merit the risk and stress they were experiencing.
However, the same survey found that the biggest proponent for driving teachers to leave the profession was the inordinate amount of stress that came with navigating education in a period of great uncertainty.
The stressors during this tumultuous time accumulated quickly with concerns over falling ill, making transitions to virtual teaching mediums, increased work hours and other factors heightening the intensity of workloads for teachers everywhere.
A survey done by the MissionSquare Research Institute in October 2021 discovered that out of a group of U.S. public sector workers, "K-12 public school educators were the most likely to report higher levels of anxiety, stress and burnout during the COVID-19 pandemic."
When in person learning was optional at Homestead in 2020, hybrid instruction made catering to the needs of all students challenging.
Michael Richter, science teacher, said, "The resources most effective for engaging online learners were not most effective for in-person learners, and vice-versa. Teachers wanted to do what was best for everyone, but it was incredibly taxing or simply untenable at times to make that happen."
The most recent '21-'22 school year reintroduced many previously online students to classroom education leaving teachers to contend with the effects of digital learning.
Lara Khemelevsky, Spanish teacher, said, "The pandemic cultivated a lot of challenges for teachers now that we're back in person. Students in virtual classes really delayed their learning and ability to socialize in a classroom setting. We're having to re-teach material and adjust our expectations. Students have to re-learn what it means to work honestly and be held accountable in a tighter time frame."
As the state of the world continues to change, adaptations to the ways students learn and teachers instruct are made accordingly.
"Education is always trying to evolve to best meet the needs of the world we're working in, the students we're educating and the future we're fostering. The pandemic heightened so many challenges, emotions and beliefs in us all that it's expected that the field of education, which encompasses so many of our lives, mirrors many of the same issues," Khemelevsky said.
Leave a Comment
About the Contributor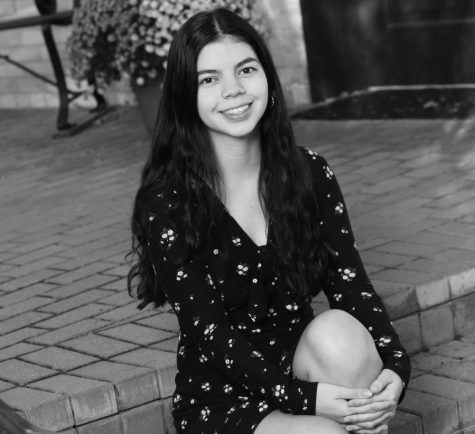 Abigail Maxey, Co-Editor-in-Chief
Abigail has been in publications for two years and is currently a senior. In her free time, she enjoys creative writing, playing guitar, and spending time...