Highlanders take center stage in Falls Patio Players' 'The Music Man'
Homestead actors are returning to center stage, but not in the James Barr Auditorium. Sra. Lauber De Garza, Spanish teacher, Sara Yudkovitch and Greer Patten, juniors, are all performing with the Falls Patio Players in their production of The Music Man.
"The show is about a traveling salesman named Harold Hill. He comes to a small town in Iowa called River City and plans to start a boys band… eventually the town figures out that he is a con man and questions whether or not the band really exists," Patten said, describing the premise of the show.
Falls Patio Players has been around for more than 50 years, putting on shows from A Christmas Carol to Moana Jr, and Yudkovitch wanted in. "I'd heard lots of good things about [their] past productions and Music Man was a show that I'd always wanted to do," she said.
The actors auditioned for their parts, and the students saw a familiar face at rehearsals: Maestra Lauber De Garza.
"I mean, I sing goofy in class…and people are like 'can you really sing?' and I'm like 'I can, but I'm not going to here,'" Lauber De Garza said.
Lauber plays Marian, a librarian and piano teacher who sees through the con-man's schemes.
"My character is really complicated way more than a typical musical theater character is," Lauber said. "I'm the breadwinner of the family because it takes place in 1912 in Iowa, but women aren't supposed to have careers, but I'm the librarian. I earn all the money for my family," she continued.
Not only the lead characters are complicated. Patten took delight in giving her ensemble character a rich backstory. "but we have all created really random elaborate characters… so it has been really fun to basically get to create my own," she said.
The performers had lots of time to refine their characters' pasts, as rehearsals were "Monday- Thursday with occasional Saturday 'singing' rehearsals," Yudkovitch said.
"Music Man ranges from elementary school kids to people who are grandparents, so that adds a whole other level of difficulty," Patten said as she compared Homestead theater rehearsals to the Falls Patio Players'. "Everyone's skill set is so different and it has been really cool to work with such a variety of people," she continued.
Aside from seeing fellow Highlanders perform on stage, the actors urge Homestead students to venture out to Menomonee Falls for other reasons.
"My favorite song to perform in honestly is 'Light A Rose', and it's because it's a it's a duet that I have with a barbershop quartet… it's four part harmony all a capella, which is extremely challenging. we sing it together and the way that the harmonies match is just like, wow," Lauber said.
Yudkovitch agreed with the beauty of the barbershop quartet's harmonies, and added, "audiences will love all of the incredible dance scenes and overall choreography."
"The set is absolutely gorgeous, the pit is incredible, and every single person on, behind, and under the stage is so insanely talented…Overall, I'm just really excited to finally get to perform this for an audience after two years of waiting, and we have all put so much thought and emotion into this that it will be really fun for people to watch," Patten said.
See the show April 29-30 at 7:30 p.m., or May 1 at 2 p.m. Purchase tickets here.
View Comments (2)
About the Contributor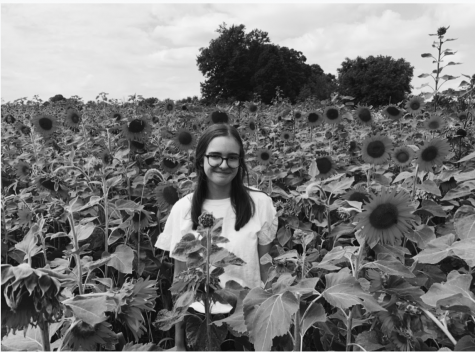 Olivia Cagle, Assistant Editor
Olivia Cagle is a junior at Homestead. She is dedicated to her board positions in clubs such as GEMS, Film club, She's the First, and WE club, and she...