From My Eyes: Wavin' Flag
In this edition of From My Eyes, the girls of the Highlander color guard offer a look into the sights and sounds of marching band from behind the flags. Also included is the perspective of Jeff Lalande, senior trombone player.
What is something not a lot of people know about marching band and color guard?
Sarah Kirtley, senior color guard captain: Most people are unaware of the time commitment band and color guard requires. It takes a lot of work and preparation to put on a performance. Most people assume it's nerdy, but it's actually a lot of fun and provides for a unique community within Homestead.
Alyssa Francis, senior color guard member: Every day we go outside and practice the football shows, rain or shine. We start weeks before school even begins. It's a major, year-round commitment.
Jeff Lalande: It takes a lot more skill, preparation, and energy than most people realize, and as a hockey player, I am very tired after every routine.
What made you want to join color guard?
S: I thought color guard sounded fun and the girls already on it seemed nice and inviting. In complete honesty, it was simply an diversion from playing my flute.
A: I can barely sit and play my instrument, much less march, so twirling seemed like a better option. Plus color guard uniforms are slightly less ugly.
What compelled you to join band, and what made you want to play the trombone?
J: I always enjoyed singing and playing instruments when I was little, and the songs seemed more fun in band than orchestra. It seemed fun to move the slide.
What is your favorite memory of band at Homestead?
S: Band provides lots of memorable moments, but my favorite would have to be, without a doubt, the New Year's Eve parade in Ireland two years ago — we were the stars of the show.
A: My favorite band memory would have to be our trip to Ireland my sophomore year. Band kids have been friends since middle school, and to go on a trip to a foreign country with more than 100 of your best friends is just an amazing experience overall.
J: Getting ready for football games and parades, where we can just have fun with each other.
How does the band and color guard prepare and rehearse for a performance?
S: As one of the three color guard captains, I take part in writing the flag routine and teaching it to the rest of the group. We practice/rehearse during class as well as anywhere from one to three times a week outside of school.
A: We practice a lot. The captains write the routines then teach it to the rest of the group. It can be kind of stressful because you need to be performance ready anywhere between one to three weeks' time. And [we rehearse] only during school and maybe a few outside practices, it is not much time to make it perfect.
J: We practice the music and drill/footwork separately and together many times before the performance.
Do you like performing more at football games or parades?
S: That's tough to answer because they are very different and have different pros and cons. Football games have more of a community feel to me and provide a lot of bonding time, but parades give us a chance to spread our name not only throughout Mequon-Thiensville and the surrounding community, but also internationally during our biennial tours.
A: I like parades more. You do the same routine over and over, so if you mess up once it's not as big of a deal.
J: The parades are more fun because as a trombone, I lead the parade and have control of making the trombones do different drills when we aren't playing.
What was your favorite routine or song from this year so far, and which was the most challenging?
S: Part flag routine and part dance, "Shake It Off" was not only my favorite routine, but also a crowd favorite. I know I speak for the color guard as a whole when I say Taylor is amazing and performing to one of her many hits was an honor. I may be biased, but in my opinion, this year's color guard is the best yet.
A: Taylor Swift's "Shake It Off" by far is my favorite routine. As a senior to end my marching band experience to that song at Camp Randall is an experience I will never forget. It's an honor to flag to that song, and the bonding color guard did alongside the song made it even better.
J: My favorite routine was "Winter Wonderland" in the Milwaukee Holiday Parade, and the hardest was the state football game routine because it was our most complicated drill in the last few years.
About the Contributor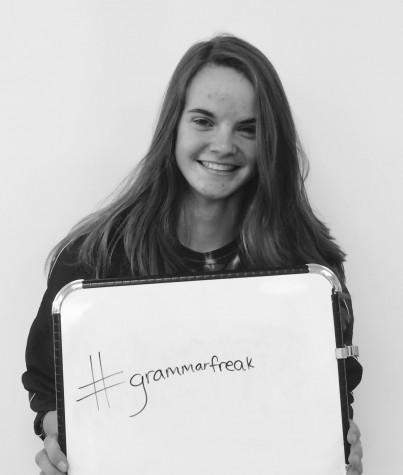 Erin Connolly, Lead Web Editor
Erin Connolly, self-diagnosed grammar freak, is a senior barely hanging on to her sanity. Three sports and three AP classes later, Erin can often be found...