From My Eyes: Ball is Life
Joe Boehmer, senior, shares the view as he plays the game he loves: basketball. Recently committing to the University of Wisconsin-Whitewater to play college ball, Boehmer competes now with the Milwaukee Wheelchair Jr. Bucks. Spina Bifida and Hydrocephalus have taken away substantial use of his legs, but Boehmer still finds ways to play basketball and have fun with teammates, just like on any other team. Check out the video below to see basketball from his perspective.
What does basketball mean to you?
"Wheelchair basketball has become a part of my life. When I started I did not think I would be playing all that long, because I would just get bored. That was three years ago. I never thought that I would be a commit for a collegiate program, let alone the University of Wisconsin-Whitewater. It still boggles my mind that Opie (Jeremy Lade, UWW men's coach) even knows who I am, let alone is allowing me to be a part of his amazing program."
What is your favorite memory from playing?
"Honestly, my favorite memories are not from games I have been in but watching our adult teams play, because I know that all of those athletes were in the same position of not being that good, which I am currently in. It shows me that I can really do anything. But if I had to choose a favorite memory from my own playing, it would have to be from a tournament this season in Illinois where we played the Mary Free Bed Jr. Pacers. One of their players was going for a fast break lay-up and when I started pushing I was at the three-point line at one side of the court and he was basically at the hoop, and in four pushes I caught him, stopped his chair and fouled him (still don't agree with the call) and he missed both free throws. Our whole bench went insane for the rest of the game."
What do you look forward to in your future basketball career?
"I am looking for to playing in my first collegiate national tournament with the Warhawks next year which will be played in Whitewater, in our home gym, the Williams Center. It would mean the world to me to help the Warhawks win a national title, especially since next year is going to be the only opportunity I get to play in a national tournament at Whitewater. If we win, it will be the 14th national title won by our men's team in its 43rd year of existence. After that, I hope to be able to roster with our NWBA Championship Division Milwaukee Bucks team which currently has nine current and former Paralympians. My personal goal is to become as good at the sport as the head coach at UW-Whitewater and to make Paralympic teams."
How did you get into playing?
"I received calls from Bob Anger, who at the time was the head coach of the team which was called the Milwaukee Heat, and went to a practice and just kept going from there. In my first season we finished as the 10th place program in the entire country, last year we were sixth in the nation and over the summer we became the Junior Bucks. We hired our new coach, Mareike Miller, who is a German Paralympian and actually was instrumental to the German women winning a gold medal in wheelchair basketball in London in 2012. She will also being playing in Rio de Janeiro this summer."
How has wheelchair basketball become a part of your life and how has it helped you?
"I feel like playing has made me realize that I don't have it that bad; my disability isn't nearly as severe as many people that I have played against in the last three years. I enjoy the camaraderie involved and enjoy being able to just hang out with other individuals with physical disabilities, including the numerous disabled jokes that we throw at each other all the time. It also amazes me what some people are able to overcome. I was born disabled and it is all that I know; however, I have many friends that were disabled either by bouts of different cancers or in accidents and I honestly do not have any idea how they are able to cope with that."
About the Writer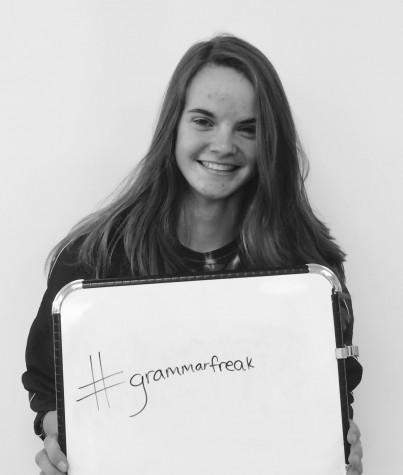 Erin Connolly, Lead Web Editor
Erin Connolly, self-diagnosed grammar freak, is a senior barely hanging on to her sanity. Three sports and three AP classes later, Erin can often be found...