Dancing for Smiles showcase to benefit dancer's sister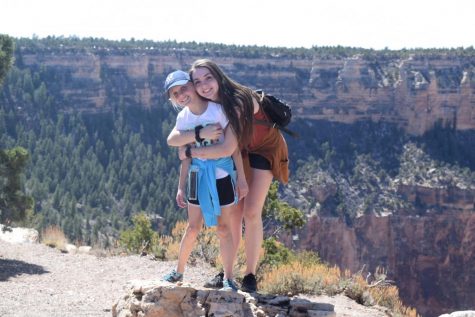 Meg Niedfeldt not only dances because it is her passion, but this weekend she is dancing in honor of her little sister. Niedfeldt's  younger  sister, Meredith, was diagnosed with Ectodermal Dysplasia at age 2. This disease is an inherited disorder that involves defects in the hair, nails, sweat glands and teeth. In order to raise awareness for this disease, Niedfeldt has organized a dancing showcase called Dancing For Smiles.
"One of the main things that happens to kids with this disease is their teeth grow in misshaped, so they need to get dentures. With the money I raise from this showcase, I will donate it to a specific branch that helps create dentures, hence the name Dancing for Smiles," Niedfeldt said. In this year's show, there will be two dance studios performing in it, Bella Via and All Above Dance company, as well as one singing act.
Niedfeldt planned the same event her sophomore year of high school, and two years later she decided to do it again. "The first time we planned this, it took me three months to plan. This year it took a lot less time because I already had the connections," Niedfeldt said. She explains how she approached different business in the Mequon-Thiensville area asking for sponsors and donations. Her junior year she was unable to plan this as the Homestead auditorium was under construction. Although this year there are fewer people performing, she believes that this year there will still be a good outcome.
Niedfeldt explains how good it makes her feel to help out while doing something she loves. "I think in the future I want to do more events like this one," Niedfeldt said. Her hopes for this showcase is that it brings awareness to this disease. "I hope this will raise awareness for the future; it's one of the main points for this fundraiser. Every kid deserves a smile to be proud of. I just hope I can help with that," she said.
This showcase will take place Saturday, May 12 at 2 p.m. in the Homestead auditorium. Admission is $10 per person with all the proceeds going to helping these kid with Ectodermal Dysplasia.