Covid-19's affects local businesses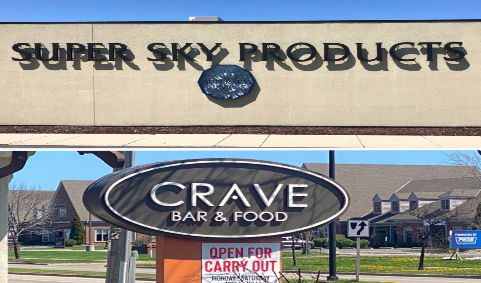 Governor Tony Evers announced a Safer At Home order on March 24, 2020 informing non-essential businesses that they had to close, and it also forced people to stay home and stop public gatherings.
Restaurants in Mequon such as Crave Bar and Food have struggled to stay open. Crave is located next to The Chalet Motel in Mequon. Once Evers announced the Safer At Home order, Crave had to shut down for about a week to get a proper menu and schedule. The owner Spyro Asimaopolous of both Crave and Santorini Grill which is located in The Mequon Public Market, is doing his best to properly obey the rules put in place by the governor.
"Fridays are normally the busiest because of our specials like our popular Friday Fish Fry," Allison Konya, junior, said. Konya is normally a hostess, but helps run to-go orders and deliver food to customers' tables if needed. Because of COVID-19, Konya hasn't been working as Crave is only employing full time workers.
Restaurants are not the only businesses that are being impacted by COVID-19. Super Sky Products in Mequon is also seeing changes. Super Sky is a skylight company that designs, manufactures and installs custom monumental skylighting systems around the world. One of the notable skylights they have installed is at the Milwaukee Art Museum Calatrava.
Brian Thomas, the President and Chief Executive Officer (CEO) of Super Sky Products, has had to make some changes throughout the office. Thomas sent home all employees except for the executives and a few people that could not work from home. "We did not close down business because manufacturing is essential for US Government projects. We have many projects located around the world in airports, train stations, and transportation hubs which are necessary to keep people moving," Thomas said.
The owner of AdvantaClean of Badgerland, Dan Harley, is using his company's disinfecting wipes to help keep police officers in Mequon safe and clean. In an interview by TMJ4, John Hoell, Police Captain, said, "This could save the life of one of our officers, or the public, to stop the virus from the spread."
It is very important that we help support local businesses. Although Super Sky Products is not a typical local manufacturing business that sells their product to the general public, they work with local architects and general contractors to design and install large skylights all around the world. Businesses all over Mequon are doing their best to stay in business during the virus, and they need the community's help to continue to operate.