Local businesses and facilities cope with pandemic
By mid-March 2020, all 50 U.S. states reported COVID-19 cases — facilities and businesses face barriers unlike any before, and have to find creative ways to deal with them.
CROWE, Center for Research on the Wisconsin Economy, found that while Wisconsin has experienced a slight rebound in economic activity there is still an "absence of stable working hours, in-store visitors, and steady income of supplies." The majority of businesses and facilities in the Mequon area have been able to reopen, but there are heavy adjustments to operation's, changing our definition of the every day 'normal'.
Rachel Muchin Young, director of Frank L. Weyenberg Library, said in an interview the library's objectives to get through the pandemic. "Our goal is to continue to provide as many library services as possible, in as normal a way as possible, throughout this health crisis.
"Since the start of the pandemic, fewer physical materials have been checked out. Things such as puppets and toys that cannot be properly cleaned have been removed from circulation. The library has also closed meeting rooms and limited their study rooms, opting to move many clubs, groups, and activities to online platforms and technologies — such as YouTube, Facebook, Beanstack, and Zoom. Plexiglas barriers separate patrons from staff, and hand sanitizer and disinfecting wipes are available throughout the library. Staff and visitors must wear masks, and staff take their temperatures and fill out a symptom and contact survey daily. Quick Pickup services were established in spring during lockdown, enabling patrons to pick up reserved items without coming into contact with staff. By the second quarter of 2021, Frank L. Weyenberg Library hopes to have "a permanent pass-through window installed at the southeast corner of the library for easy walk-up access," Young said.
People are checking out more digital material than ever before — such as downloadable books, audiobooks, music, and movies. Many lonesome library books are now in the hands of new readers. Cookbooks, craft books, and Do It Yourself project books frequently cross the circulation desks. While the pandemic has posed serious travel restrictions, reading books "can take you places when you can't go anywhere," Young said.Alyssa Lugo is the owner of Cafe 1505, a cozy cafe that has been nestled in Mequon for almost 30 years.
CROWE reports that small businesses, especially in the food and drink sector, have most heavily struggled with unemployment rates.
Lugo said "It is so important for our community to know the struggles restaurants are going through and what solutions we have in place to ease their minds." Cafe 1505, Lugo said, strives to "do everything possible to stay open and stay safe so patrons can keep coming in." They aspire to keep employees paid and working, and to keep small, local purveyors in business as well.
"It's a chain reaction," Lugo said.Cafe 1505 requires all staff and visitors to wear masks. "Employees are well versed with hand washing, sanitizing and COVID-safe protocols," Lugo said. "We also ask that patrons practice social distancing by staying 6 feet apart and to try and keep their group size at about 8 or less."
To further implement social distancing, Cafe 1505 has removed half of their tables and are at half seating capacity. Curbside pickup is offered, and larger order delivery is offered for the Mequon area. "Sales and staffing have been our biggest challenges," Lugo said.
Sales took a hit in 2020 when many reopening businesses had to lower capacity, and some employees had to leave and search for other work due to the instability of the service industry.
"We are one of the lucky ones, to still be here after almost 30 years and through a pandemic," Lugo said, also expressing her gratitude towards her team members.As more is learned about COVID-19, businesses and facilities constantly work towards following the safety measures and health guidelines that continuously grow tighter, fighting to stay open and safe.
About the Contributor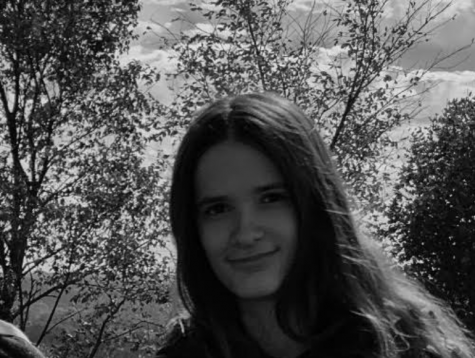 Breanna Ruppel, Staffer
Breanna Ruppel, a sophomore at Homestead High School, is a dedicated student. She is delighted by the chance to advance her writing skill; planning to,...